Recently we have seen an increase in fraudulent emails, circulated in order to collect private information from both customers and selling partners.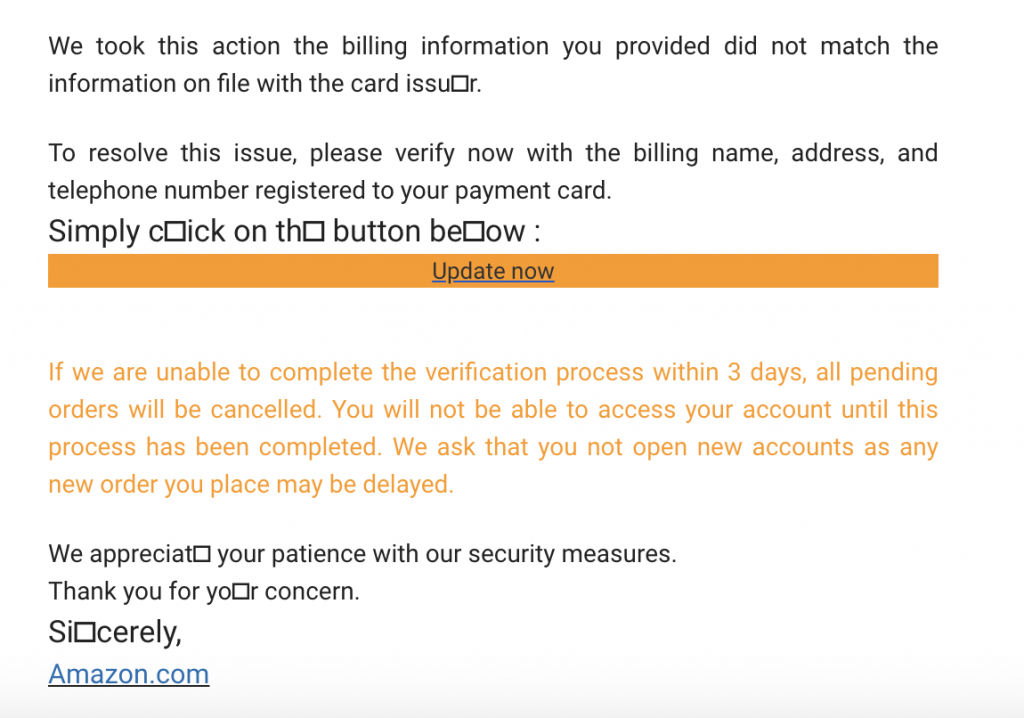 Such emails (known as "phishing" or "spoof" emails) often come with the request to update personal, financial, or other account data.

Alleged notifications might also contain another call to action (i.e. "you have received a customer review, please log in"). Amazon has zero-tolerance for fraud, and we would like to draw your attention to the following safety measures.
Phishing is an attempt to steal your confidential information such as your user name, password, or One Time Password via an email or other direct communication.
A fraudster can fake sender information, tricking you into believing the message is from Amazon while directing you to another website designed to steal your account information. Amazon takes this issue very seriously.
To make it easy to identify phishing attempts, we will never request to update payment information through a link in the e-mail. Instead, we would include instructions on how to verify your account information, including payment options, through the respective Amazon website.
You can check the web address to ensure the site is legitimate before entering your information. Genuine Amazon websites always end with ".amazon.com", "amazonsellerservices.com" or "sellercentral.amazon.com."
You can identify phishing e-mails by the following characteristics:
Look for the sender. There may be "Amazon" as a sender in the mail, but if you click on the sender, you can view the details and will see the complete e-mail address.
Phishing e-mails often contain spelling or grammar errors. This is a clear sign of fraud.
Do not click directly on any link in the e-mail but enter the URL in your browser. Check closely the URL of the page.
Often, bogus websites contain small spelling mistakes that may not stand out in the URL (for instance "amazon").
Amazon will never send e-mails asking you to confirm your data and enter passwords.
Look for your own e-mail address. Amazon sends all messages to you exclusively to the e-mail address stored in your seller's account.
Whenever in doubt, go directly to the Seller Central website in your web browser to confirm their legitimacy of the message and send any suspicious emails you receive to stop-spoofing@amazon.com