Amazon seller account ban is a frequent thing, and it can happen to any seller.

Amazon seller forums – usual thread
1. Ban After Registration
Seller account suspension after registration is the TOP ONE suspension reason on Amazon nowadays. A new seller receives such an email 10-15 minutes after his account approval: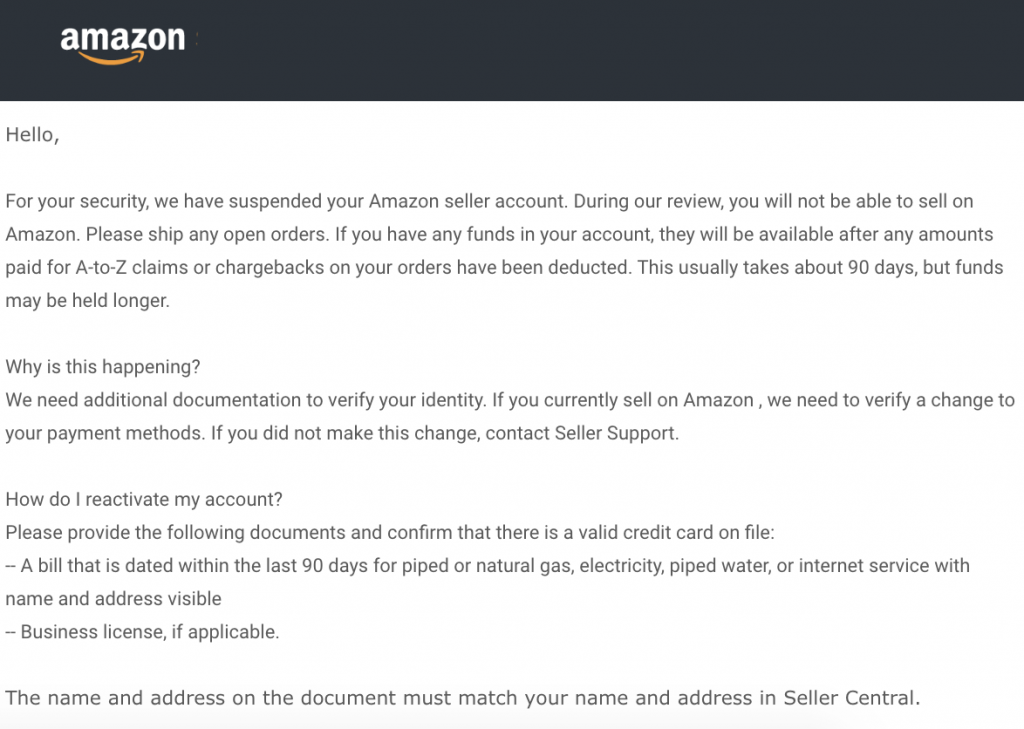 In the email, Amazon tells you they are unable to verify your identity (after you send your passport or ID to them) and they ask you to provide a utility bill dated within the last 90 days with your name and address.
After you send your utility bill to them, nothing is going to happen. Nothing. This is the most problematic suspension on Amazon nowadays, and even experts do not know what to do about it.
Therefore, most people start to search for where they can buy an Amazon seller account right after that type of suspension. According to our experience, such an account will not be reinstated in 95% of cases.
If You Are an Existing Seller
Imagine: you have done all the enormous work, researched for products and suppliers, submitted your listings, made first sales, received some reviews. The business is flourishing. And one day you log in to your account, and GET BLOCKED!
Getting suspended means:
your listings of products will be removed,
your payments will be suspended,
the account and the warehouse will be frozen,
the storage fee will be still charged,
and, of course, there will not be any sales.
Before starting to sell on Amazon, the seller should thoroughly scrutinize the Amazon rules. In most cases, any seller just skips reading them.
Yes, reading several pages of plain text requires you to spend some time and have some dedication, because, as they say, ignorance of the law is no excuse. So do it. This simple tip alone will help you avoid 80% of problems on Amazon as a seller.
Other common reasons for existing Amazon sellers to get banned or suspended on Amazon are:
2. IP and Data Change
One of the most common reasons for getting suspended on Amazon is accessing your account from different countries. In that case, Amazon considers that your account has been hacked and, in order to prevent data, products, and money from theft, the tech support blocks the account.
Reactivating your account, in this case, can be a big problem. Therefore, we recommend sellers get a virtual private server (VPS) and access their accounts via Remote Desktop (RDP).
Additionally, if you change your deposit and charge methods along with the email and password simultaneously, you risk getting suspended as well. However, reactivation, in this case, is more or less easy.
3. Listing of Prohibited Products
Amazon has a whole list of products that are banned from the sale on their website. This list includes not only drugs, weapons, and sex products.
A complete list of categories and products that are prohibited from selling or require special permission can be found here.
As Amazon states, this is not an ultimate list of prohibited products. So if you have doubts about the product you want to list, it is better to consult with an expert (you can also ask us for help: our email) or submit a ticket to Amazon tech support.
4. Selling Counterfeit Products 
This refers to counterfeiting of brands which is a breach of copyright and/or patent (Intellectual Property Violation). Even if you are sure that you are buying products from the legal manufacturer, that problem may also affect you if someone considers your products as fake. This ban frequently applies to sellers doing a dropshipping model of business. Private Label sellers are 100% protected from that.
Besides 'counterfeit items', there is another term 'inauthentic items' on Amazon, which can be defined as a product that does not meet certain requirements.
This is such a product that was purchased from an unconfirmed source that Amazon may ask additional questions about. That kind of problem may arise due to a complaint submitted by a dissatisfied customer.
If you cannot find out who and why complains about your product, to quickly solve the problem, you will need to provide the Amazon support with the order details of your product (that can be requested from the supplier).
Those can be:
an invoice where the brand or name of the manufacturer is clearly indicated
a quality control certificate confirming the authenticity of the products
Complaints of that kind may also arise because your brand and products are similar to another brand which may mislead a buyer, who, thinking that the product is fake, starts to complain to Amazon.
4. Negative Reviews
Your Amazon store rating and account health are dependent on reviews. If two customers, for example, leave you a review with 1-2 stars, that can significantly make things worse. Such issues need to be addressed immediately.
You should offer the buyer a refund or a gift or both to protect yourself from a ban.
5. Refunds
Any product is eligible for a refund. If the customer indicates one of the following reasons while returning an item, that can negatively affect the account and the listing as well:
a) "Defective". ​​Damaged products
b) "Used sold as New". The product may be indeed brand new. However, the buyer may think that it has been already in use if there is, for example, some dirt
c) "Not as Described" is a listing problem. It may occur if the buyer receives a product that is different from what has been shown in the description.
d) "Not As Advertised / Wrong Item". Especially applicable to supplements. Don't use the phrases, such as "the best, the fastest, the strongest", etc.
e) Late Shipment Rate. Very long delivery time. This is applicable to FBM (Fulfilled by me) sellers.
Incomplete Item – perhaps the product lacks any part;
Expired Items – Expired item.
If Amazon finds a certain seller has violated some of the rules above, the Seller Performance may send one something like that: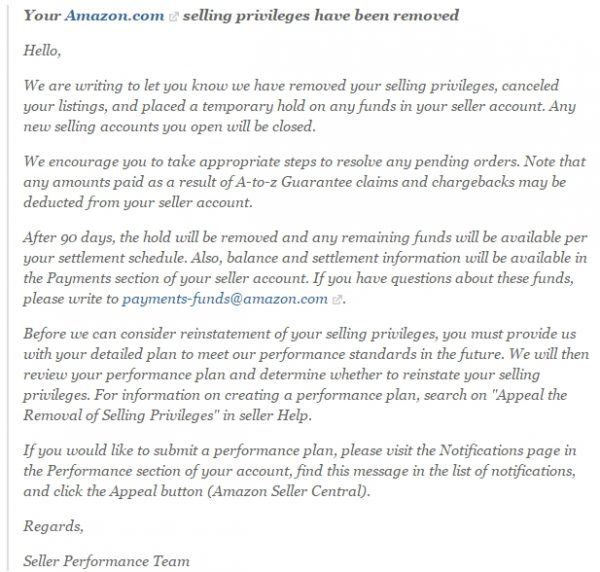 If you encountered a problem such as suspension, you need to take quick steps to reactivate your account.
Contact us if you need to get some help on what to do if Amazon has suspended your account: amazon@hypegram.com
Good luck!
P.S. Subscribe to Updates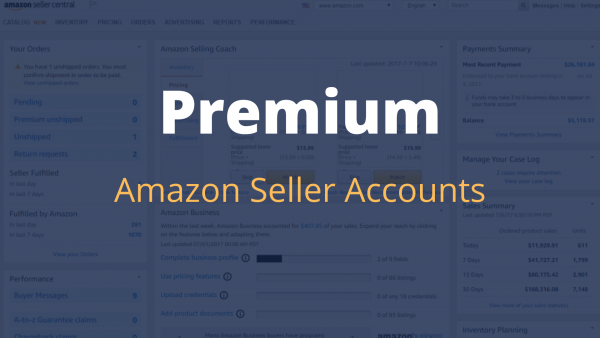 Subscribe to our Premium Amazon Seller Account Updates by email: click here
Alternatively, you can join our Telegram channel (click here) to be the first to know about updates.