Our New Website: PremiumSellers.com

Imagine if Amazon finds you guilty of selling counterfeit products and suspends your FBA seller account.
Or they suspend your account for shipping delays (FBM) when you thought you had sorted it out by choosing the best carrier.
For you, it's the end of the World,  and you don't know how to reinstate your existing business.
Every day, hundreds of sellers around the world are banned from Amazon or have their accounts suspended (see their forum). How to deal with an Amazon account suspension? How to rehabilitate your sales activity in the Amazon marketplace?
We provide you a simple solution in this article.
Being Suspended or Banned on Amazon: What is the Difference?
Being both suspended and banned means Amazon no longer allows you to sell on its marketplace. However, if you are suspended, it means that you can still appeal the decision. You still have a recourse.
You can choose to have your strategy reviewed. If you are banned, you will receive an email from Amazon stating that your call failed, that they will no longer read your emails and that they prohibit you from opening another account.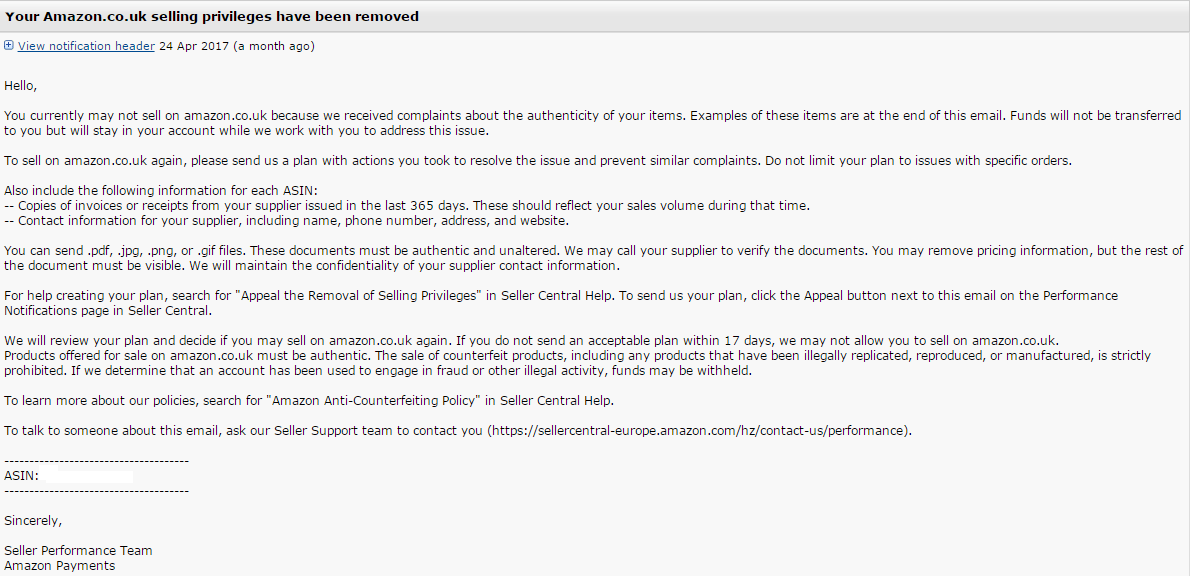 You realize then that you will lose a large turnover because the products sold on the marketplace represented you a real contribution.
Most of the time, these suspensions are carried out by robots and e-mails are sent automatically. You may then have no chance to reinstate your account if you request it and even if you justify yourself correctly. Note that in some cases if your "fault" is "serious" in the sense of Amazon robots, you can do nothing to reinstate your products on the marketplace.
How to avoid this hassle faced by tons of third-world country Amazon sellers? How to survive if you are already in the abyss of expulsion? How to be reinstated? Simple: buy an existing Amazon seller account (learn more).
Advantages of Buying an Existing Amazon Seller Account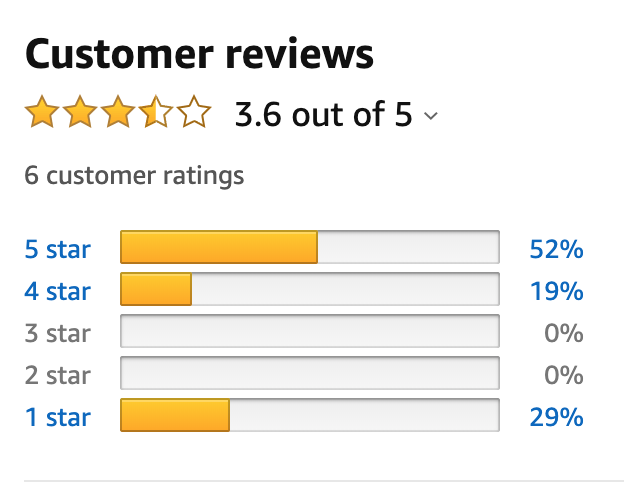 1. Use Existing Reviews
An aged account with some history permits you to use existing reviews for a new product. For example, the former seller sold Nike shoes and got several 5-star ratings in 2012, you can edit the shoe to an Adidas while still retaining the old-date 5-star ratings for your new product.
2. USA Accounts are more trusted
Buying an old account, especially a USA based Amazon seller account, removes you from the spotlight. What is the spotlight? You are less likely to be flagged for a random account checks. Rest assured, a lot of sellers learned the hard way that it is better to skip being checked than to be checked and found wanting.
Amazon checks you out and there is a small error, they don't care about your apologies, whether founded or not. Above all, the marketplace wants to know that you are going to take your responsibilities and assume the failure in order to ensure that the problem is quickly resolved. On this, they mostly trust USA sellers.
Why? Amazon can make a chargeback on a deposit made to a USA bank account. Thus, they believe that a USA seller will be more accountable.
3. Aged Accounts are Ranked Higher
Existing accounts rank higher on Amazon SEO searches. What can you do to optimize the sales process? How can you improve the customer experience? Can you better manage deliveries? Amazon will check these lists for you and rank you higher if you have a seller account that is over 6 months old.
Additionally, Amazon sends numerous reports to each seller. These reports allow the seller to understand what is really going on in their seller account. With these reports, sellers can see which are the most common issues. This report gives new sellers a good starting point for improving. You really want to skip this multi-stage reporting by buying a ready seller account that has received all recommendations, and thus, ranks higher on item searches.
What Do You Need to Look Out for When Buying an Account?
1) The first thing that you absolutely must read is that concerning consumer feedbacks. If the account for sale has a large number of complaints and negative opinions, this will be highlighted. You can then determine which elements are problematic and thus decide whether you need to seek a different seller.
2) The second thing to read: that which concerns returns. It is a rich source of information. You will then understand, as well, if you are getting a good bid, or conversely if you are bidding for a dying business.
3) The last element to take into account: messages on the platform. Although this is not to be taken too seriously, this real-time information allows you to understand which elements the previous seller did poorly on. If this borders around description and photos that are not optimal, no problem, there is a quick fix for that.
In addition to scrupulously following complaints about the account's former products, you must obviously keep an eye on the store performance.
Should I Buy an Existing Amazon FBA Seller Account?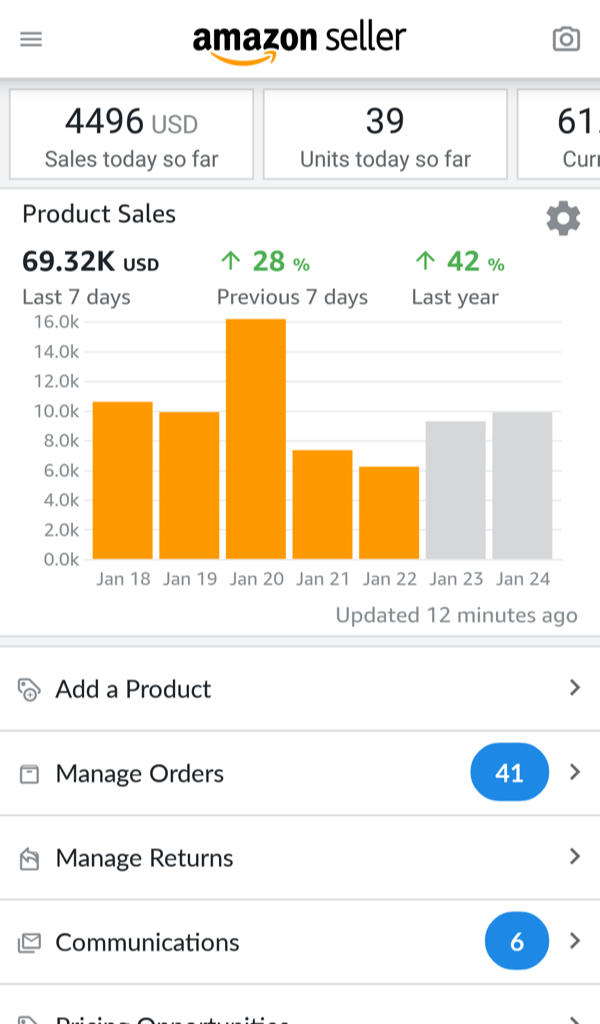 The ability to grow Amazon sales in a relatively short amount of time and avoid any hassle makes buying and selling Amazon business accounts an attractive opportunity for investors.
With these kinds of businesses becoming more popular each year, a new industry has sprung around them to help them keep up and carry out all the work required for these negotiations.
Many brokerage platforms serve potential investors looking to acquire an Amazon FBA business. These business brokers are reliable, trustworthy intermediaries that can help make negotiations and acquisition go smoothly.
It is important, however, that any contract always includes a period for due diligence and leaves a window open for you to walk away or make changes to the initial proposal if needed.
Conclusion
Thinking whether it makes sense to invest in growing your business on Amazon by buying a seller account? Look at the statistics and the main advantages of this business, they speak for themselves:
●  The number of visits to the Amazon site every month is more than 3 billion users, ranking high in your category, you get access to millions of buyers from different corners of the globe.
●  The ability to offer customers fast-selling items in more than 30 categories of goods.
●  Amazon has always a very interesting audience; your product is sure to get those who need it if you play your cards right.
●  You no longer need to interact with the buyer; you don't need to take orders manually and spend time talking with each client, all these processes are automated.
●  You don't need to do storage of goods, hiring of courier or delivery service since you use the Amazon warehouses.
●  Another significant advantage is the speed of delivery; the goods are not lost during transportation.
●  You get profits in safe-haven currencies – dollars or euros.See you at the top!
P.S. Subscribe to Our Aged Account Arrival Updates: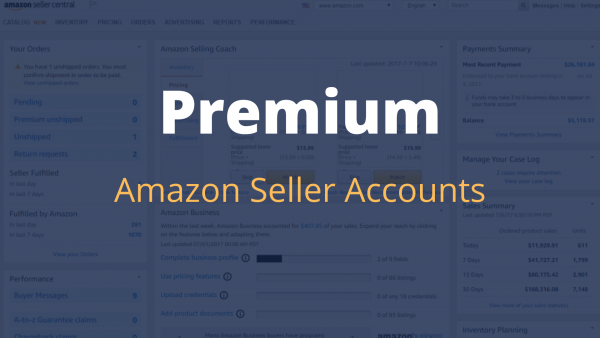 If you are looking for great aged Amazon seller accounts, subscribe to our email newsletter (click here) or join our Telegram channel to be the first to know about new gem arrivals (click here).