Photo: Instagram @alexpreview

The online hotel booking business is huge (approximately around 1.2 trillion room nights to be booked in 2020), and there is a constant stream of new sites all claiming to be the best.
It's all very well being able to save money, but if you have to spend several hours searching different sites then it may feel like it wasn't worth the saving.
With this in mind, I have completed an analysis of the most popular sites available as of December 2019 from best to worst (you are welcome to send your recommendations).
There are lots of factors that people need to consider when choosing a metasearch engine, and I've tried to cover all of those with a range of searches and results criteria so that we can see if different services work best for different needs.
I conducted all the searches for the same criteria in the same hour to eliminate the possibility of hotels becoming fully booked and affecting the results, and these are the searches that I conducted:
1. Checking-in Friday and checking out Sunday of the coming weekend in Manhattan.
This was to see how sites performed for those people looking for a last-minute city break within the States.
I conducted two searches, one for any rating and one for minimum four-star rating, to see how they compared.
2. Checking in Friday and checking out Sunday of a weekend in 6 months in Manhattan.
This was to see which sites fared better for people who are a little more prepared for their weekend breaks.
Again I did this on the cheapest possible option and the cheapest four-star options.
3. Checking in Friday and checking out Sunday of the coming weekend in London Soho.
This was to see how the sites managed international last-minute city breaks.
Again I tested them on the best bargain and the four-star option.
4. Checking in Friday and checking out Sunday of a weekend in 6 months in London Soho.
I wanted to see if any of them were particularly good with advance international city breaks.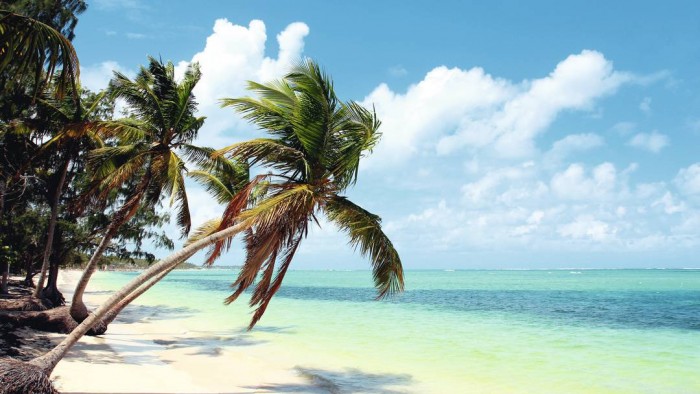 5. Checking in on Sunday and staying for 14 nights in the Dominican Republic in 12 months.
This was to see which sites performed best for people planning their next big vacation in the sun.
I compared the best price, the most popular and five-star options for this location.
All searches were done for two adults sharing a room and just for hotels, no other type of accommodation such as hostels, BnBs, and motels.
Any prices mentioned are per room, per night.
For each site I have addressed:
the ease of use
the aesthetics
the quality of additional search criteria
the functionality
I have then commented on the actual results with my opinion of any benefit of using the site.
The specific prices of all of these hotels will vary wildly from day to day, so this is not intended to give you a guide price, and when specific prices are mentioned they are just a tool for comparison.
Overall, only six of the sites returned the lowest price and ten came back with the highest price.
1. Booking.com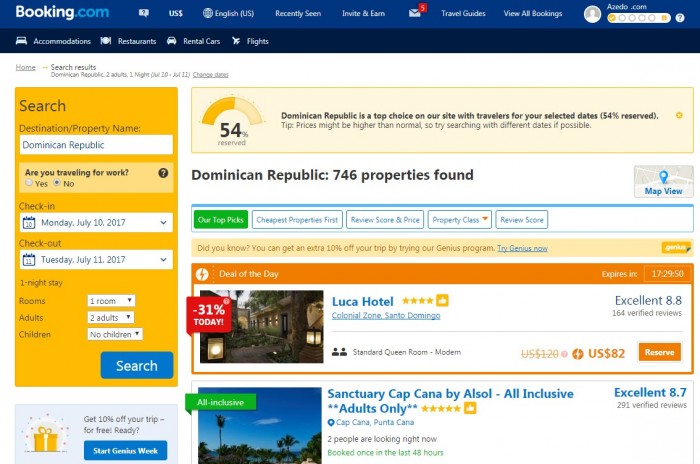 My rating: 9/10
Overall Impression
It is impossible to attempt any search for accommodation without tripping over Booking.com, and their social media presence is evidence of excellent marketing.
However, having a high profile is not always an indication of good service and I was ready to be hypercritical.
From the start the search criteria entry was one of the easiest that I've used, being responsive and intuitive in the way that we expect given the technology available in this day and age.
Results
The results page was aesthetically pleasing, clear and easy to navigate.
There was a similar friendly warning that I had seen on the clone websites regarding hotels being expensive on the selected dates, but it told me that 48% were booked rather than 70% that other sites reported.
I found this to be more believable and useful.
There was quite a bit of information above the results regarding additional bonuses and offers for members, which was a little distracting.
It showed the price for the entire stay, which is far more useful than the price per night that the majority of other sites present.
I did encounter a problem when I searched for the last-minute London weekend, as the result shown at the top was over $200 more than an option further down the page despite me stipulating that I wanted the results in price order.
There was no way to work out why this happened, but I would have missed it if I hadn't been scrolling down to change my search criteria.
There were more options to search for specific room and hotel details than on the average site, but this wasn't quite as comprehensive as Trivago or Skyscanner.
Booking.com returned the best price on five searches, which is two more than the next best performer.
All the other results were better than average and it was nowhere near the most expensive on any search.
The result for a five-star two-week vacation in the Dominican Republic was more than half the price of the next best and was actually cheaper than one of the results I got for a hotel with any star rating.
It is possible to book many of the hotels offered without putting a penny down and you can often cancel up to 24 hours before check-in without any financial penalty.
Conclusion
This was a very deserving 9/10 and I would happily recommend this site for customers who don't have the inclination to double-check any other sites before making their booking.
2. Trivago.com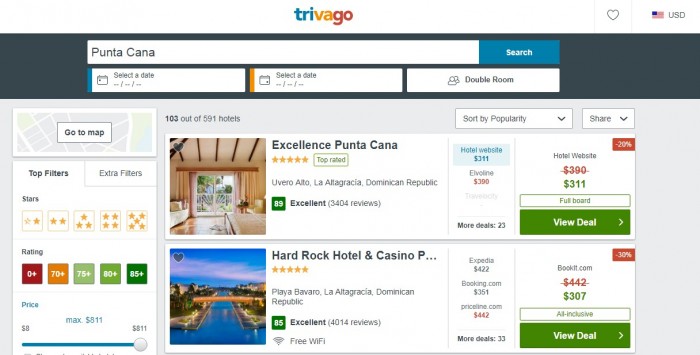 My rating: 8.5/10
Overall Impression
It is impossible to watch TV or use the internet without knowing about Trivago as a result of their massive multimedia presence.
They have been steadily developing their brand and their product and were the first result to come up in any search for hotel comparison sites.
Their reputation certainly appears to be justified in some respects.
The first page of the site was a simple, aesthetically pleasing, functional, contemporary and with an easy-to-use search criteria entry box.
There were no promotions or superfluous information and it was followed by very quick return of results on all the searches.
The additional search criteria was unmatched and included the ability to search on very specific factors such as rooms with balconies and baths, as well as the usual searches for pools and WiFi.
Results
The result page was simple and it was easy to view the options.
It is necessary to scroll through options on the left sidebar to specify that I only wanted hotels, but once you choose the additional options the new results are quickly generated.
It was easy to reorder the results according to the usual price and distance but also rating and popularity.
There was also an option to sort results that merely 'focused' on these elements, which means that by focusing on price rather than saying price only it will find the cheapest results that best meet your criteria or that was a little more but had a significantly higher popularity or rating.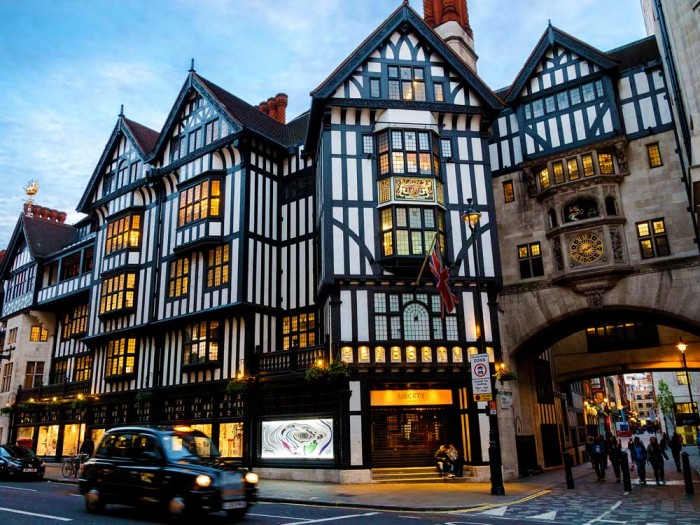 On the first search, I clicked on the best price to test the process and it took me to booking.com, where I was invited to sign in to get a special 'secret deal.' I did and got an unimpressive $2 discount for my trouble.
For some reason when I searched for the London hotels it didn't filter out the homestays despite me making that selection, and it was quite tricky to tell which were hotels and which were rooms in a house without clicking on the deal and getting redirected to another site.
With each new search, I had to stipulate that I wanted the results by price only, rather than it remembering my preference.
This was a minor issue but, as most people searching for hotels conduct several searches, I think it could be addressed to improve the site.
This site really came into its own on the search for hotels in the Dominican Republic, as it was so easy to choose the cheapest, most popular and five-star options, and the layout of the results was so simple to see.
Trivago came back with the best price on two occasions but they were significantly lower in both cases, and it never returned the highest price results with the prices being competitive for every search.
Conclusion
I'd give Trivago a healthy 8.5 out of 10 on the basis of functionality and average price.
It is certainly the best site if choosing specific features of a hotel is a high priority for you.
3. Momondo.com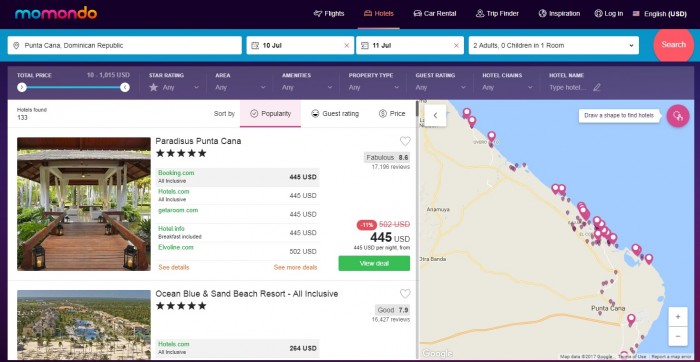 My rating: 7.7/10
Overall Impression
This is another site that I rate very highly for flight comparisons and I had high hopes.
It started well with the site's signature contemporary look and excellent functionality.
There was a fairly simple search criteria page, although it did automatically put the checkout date as being a week after check-in, which wasn't useful and seems unlikely to be the standard choice for people booking into NY hotels on a Friday.
Results
The results came back very quickly and had Momondo's signature style with a user-friendly and intuitive layout.
There was a disappointing selection of additional criteria; however, they were located along the top of the page, which made them so much easier to use than scrolling up and down the page for everything.
I also really liked the map on the right side of the page that showed exactly where the hotels were.
This did not distract from the list of results, which is something this site is very good at.
They are able to provide a lot of information, but the style and color palette makes it very easy to see what you need to see.
Conclusion
Momondo returned uncharacteristically average results across the board with prices close to the lowest on the majority of searches but not quite making it.
They were never the best price, or even close.
For functionality and appearance this site gets a 10/10 but the disappointing end result brought this down to a 7.7/10.
4. Kayak.com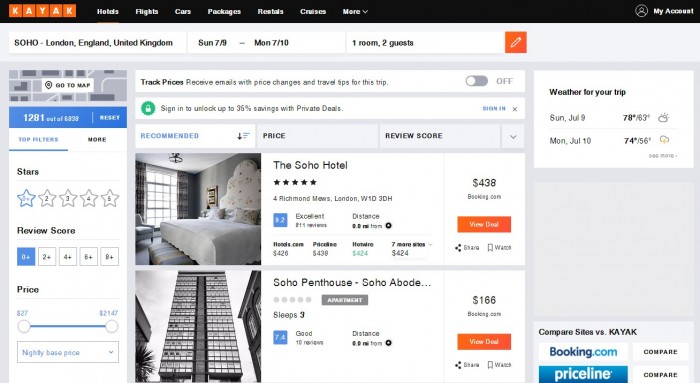 My rating: 7.1/10
Overall Impression
The initial search engine is a bit disjointed to use.
There is an automatically generated location already in the search bar, and deleting it and entering a choice was trickier than it should be.
The calendar set-up was that you chose your check-in and check-out date on the same calendar, which was awkward if the dates crossed over into the next month and a wrong click would mean you were looking for a two-week vacation rather than a weekend, and it wasn't straightforward to reset.
Underneath the main search criteria boxes is a row of check boxes that are automatically selected to search additional sites and, if they remain checked, will launch popup windows with those searches.
It is not clear why this is necessary, as Kayak is already a metasearch engine.
The popup windows are smaller and it is difficult to see the offers that they have returned, and for future searches, I made sure that I unchecked those boxes.
Results
The main search result took a while to come back and it was an untidy page with a sidebar to the right with offers and promotions, another to the left with additional search criteria, an option to look at the results on a map, and three options including 'private deals' if you sign in above the results.
All of which made viewing the actual results confusing.
The option to search for additional features was very limited and it was quite a scroll down the alternative search criteria to choose to search for hotels only, which shouldn't be an unusual selection for customers to want.
I checked to see if signing in made the professed 35% difference and was very disappointed to find there was no difference, and needless to say, I had received an unwanted promotion email as a result of going through the process too.
The search for a four-star Manhattan hotel next weekend gave a great result so I clicked on it to see and got redirected to Hotels.com.
The process was pretty straightforward but there were three new windows opened on my browser and when I returned to the Kayak sight I was plagued with popups that were now jumping on the knowledge of what I had just searched for.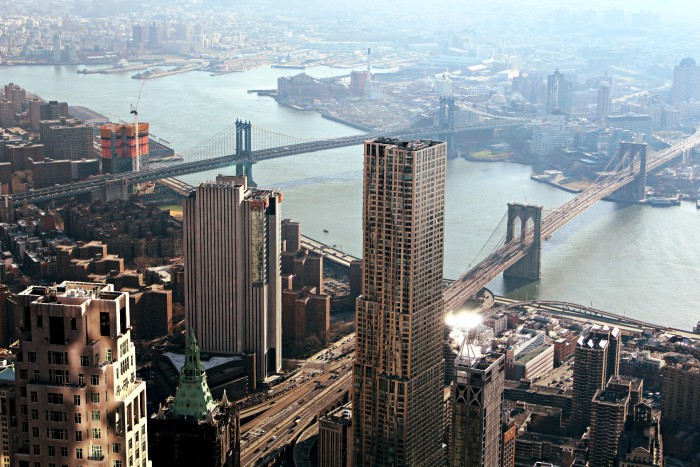 It was really quite irritating.
When I searched for London hotels the top results were for hotels over 30 miles from my selected area of Soho and I had to scroll down to find one that was even close to the area, so I had to select the minimum distance, which was really unnecessary when I'd already specified a district.
After each search, I had to double-check that all my criteria were still selected and often had to recheck boxes, and this process highlighted how difficult the results page was to read.
When I conducted the Dominican Republic search, the results page took a while to load due to the number of promoted advertisements that were at the top of the screen.
Scrolling up and down the page to change the criteria was slow and overly complex too.
Having said all that, it is undeniable that Kayak did come back with the best price on three occasions, but the savings were not particularly significant and were matched with the booking.com result twice.
They were never the most expensive, but they came close on the Dominican Republic search.
Conclusion
I have given Kayak 7.1/10 for returning low prices; however, the poor functionality of the site had a big impact on the score.
5. Expedia.com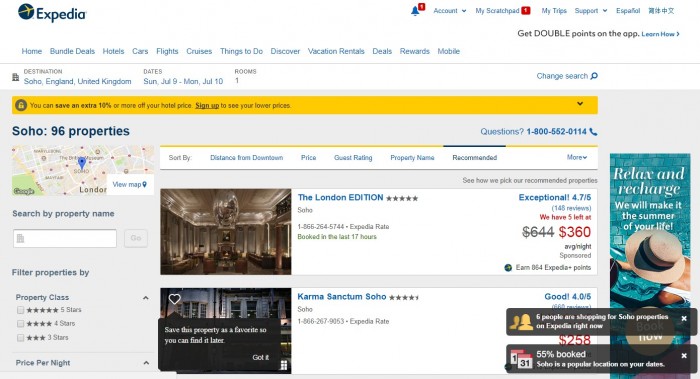 My rating: 6.7/10
Overall Impression
Expedia has been a trusted site for all aspects of travel since the trend to book our own vacations online began, and I was looking forward to seeing what it had to set it apart from the rest.
I was initially disappointed with the overly complex search engine, and things didn't really improve on the results page.
Results
The results page had far too much information and promotions which kept loading after the results were displayed.
This meant I accidentally clicked on an advertisement and got redirected from the site and had to make my way back once the second site had finished loading.
The search for the Dominican Republic highlighted quite a few problems on this site, as the results page was littered with promotions and popup windows offering additional services.
The results were jumbled and almost lost among all the additional superfluous information.
There also wasn't a recommended or most popular option for ordering the search results. I had to search by guest rating, which is not as representative of how good a hotel is based on all the factors.
The search for five-star hotels only came back with three results, two of which were already sold out and the other was $795 a night, which is almost four times the price of the next cheapest option.
Expedia did return the cheapest rooms on two occasions, but this was via the Booking.com website on both occasions.
Conclusion
The rating of 6.7/10 reflects the low prices that the site returned but with poor functionality when compared to sites with similar results.
This was a very disappointing result for such a prominent vacation planning resource provider.
6. Hotwire.com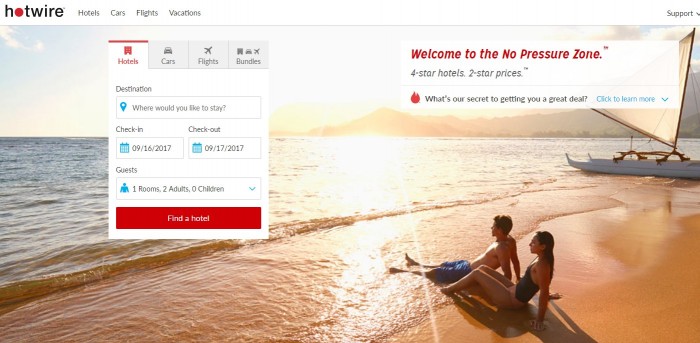 My Rating: 6.5/10
Overall Impression
The Hotwire website is contemporary, pleasing to look at and functional.
There are minimal advertising and very few additional menu options to mess up the page.
Results
Initially, the results page seemed very positive.
It was easy to read with what appeared to be excellent results.
However, it took a while to realize that the site automatically presents a list of its 'hot rate' hotels.
The 'hot rate' is not explained, but on examination, it appears to be a list of hotels that are an incredibly good value but don't quite match the specified criteria.
They were all several miles outside of the search area or weren't even hotels.
The benefits of offering cheaper alternatives are outweighed by the lack of clarity and it would be easy for someone searching for a hotel in Soho or Manhattan to think that they have found a great deal only to arrive and find themselves staying 15 miles outside of the area that they specified.
It could be useful for anyone who knows the area well but I can't see this being a common occurrence.
Having realized I needed to select an alternative tab to get to the actual list of hotels that matched the search criteria, I found a results page that used the same template as a few other comparison sites and the prices were nothing special.
Conclusion
The confusing results page could easily result in very dissatisfied travelers.
Having said that, this could be a great site to use for anyone flexible on dates and locations, as it will conduct a wider search and give you their 'hot rate' hotels.
For anyone searching for a specific date and location there is nothing to set this apart from the rest.
7. Travelpony.com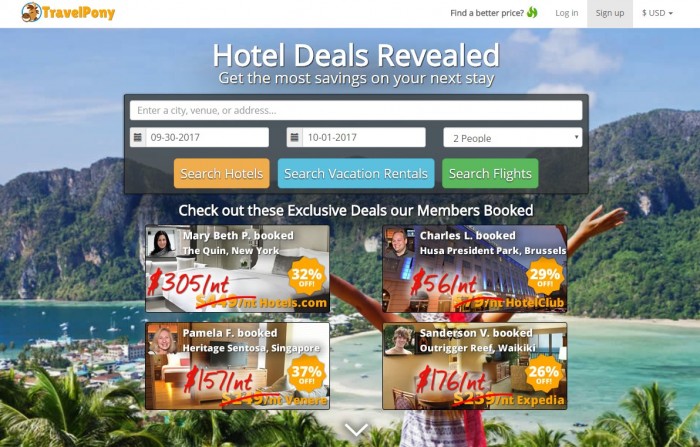 My Rating: 6.3/10
Overall Impression
Travelpony has a really simple and easy-to-use search interface.
Like many sites, they offer more than just hotels but, rather than needing to specify what you are searching for before entering the location and dates, they offer one search engine with three buttons to choose from depending on whether you want hotels, flights, or holiday rentals.
This seems like a small detail but it demonstrates an awareness of the customer experience, as it is often irritating to find that you have inadvertently entered the criteria on the flights' page by mistake.
It is a nice touch.
There were quite a few advertisements under the search box and the background image made it a little busy, but the interface was good enough to be able to overlook these details.
Results
It was easy to change the order of the results and to specify additional criteria.
There were no irritating popups and no distracting promotions.
It was easy to switch to the map view if the location is of particular importance to the user.
The prices were never the lowest, but they were among the better results.
Conclusion
If Travelpony had returned the lowest prices then it would have been one of my favorite sites to use for simplicity, ease of use, and features.
Without those lower prices it doesn't quite compete at the moment.
8. Tripadvisor.com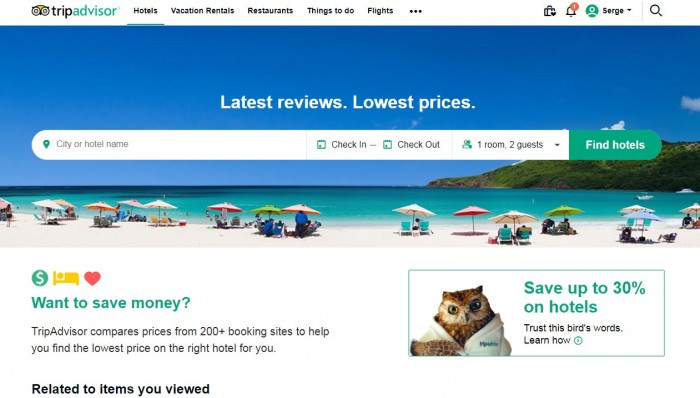 My Rating: 6.1/10
Overall Impression
The search fields are familiar to anyone who has done some research into future vacations and they are easy to navigate.
Unfortunately, it did not allow me to specify Manhattan or Soho, and New York and London respectively were the smallest area that I could search for from the initial search.
Results
I could narrow the search down by neighborhood in the additional criteria on the results page, but this only returned one hotel in Manhattan.
I had seen far more hotels that were in Manhattan on the original results page, so this wasn't accurate.
In order to get a price result I went back to the original search results, but having to go through all the results to find a hotel in the right area really put me off using this search engine.
The prices were a little lower than a lot of the sites that appear to be using the same template, but not significantly, and they weren't as low as some of the other more successful sites.
Conclusion
Tripadvisor is a great place to go to read reviews to inform your decision making when choosing a destination or hotel, but it hasn't done enough to make it a one-stop shop for all vacation needs.
A little disappointing for such a well-known website.
9. Skyscanner.com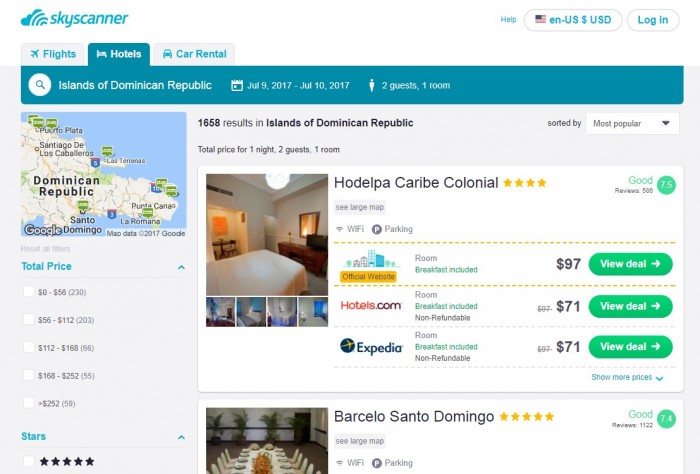 My rating: 5.7/10
Overall Impression
Skyscanner is an excellent flight comparison site that is now expanding into other areas of the vacation industry, but it seems that they have missed the mark when it comes to searching for hotels.
The search criteria page didn't flow as well as some others with mouse clicks and it was unresponsive to tabbing and had no intelligent autofill, but it was aesthetically pleasing and not overly fussy.
Results
The results were quick to come through and the page had a lot of information and options without being difficult to read.
The ability to search for specific hotel criteria was on a par with the Trivago site, although not quite as easy to find.
There is a handy price gauge next to any options that you may select or deselect so you can see quickly the difference that making that choice will have on the results.
This never gave the best price, and the search for a last-minute four-star weekend in London was double the lowest price from Trivago.  
This was really disappointing from such a reputable search engine.
Conclusion
I have given some points for the interface and the excellent additional features, but the overall results indicate that they either need to stick with flights or improve their service to make this a viable option.
10. Secretescapes.com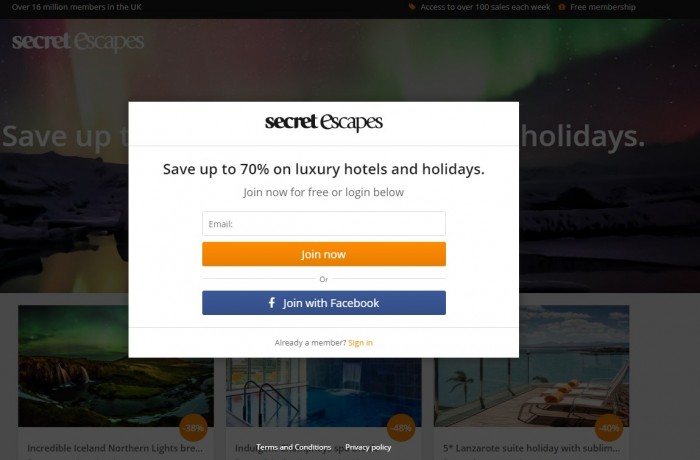 My rating: 5.5/10
Overall Impression
This is a very different service and I did consider taking it off the list, as it really isn't suitable for the sort of searches that I was conducting; however, there were enough points of interest that made me reconsider.
This is a members only website so it is necessary to sign in first, which you can do using Facebook or email.
Once you're past the login, the front page is more like a magazine website than a vacation search engine.
The search entry fields are in the middle of the page and blend into the other articles so that you don't see them immediately.
It is clear that searching in this way is not the norm; instead, there is a sidebar offering searches on wider criteria like the month, destination or type of vacation.
Results
This site works by having a relationship with a few select hotels and resorts and agreeing on a unique deal that beats anything else that the hotel has to offer anywhere else.
So when searching for specific dates there is not a lot of choices, as there will have to have been a deal already in place.
This site did not return any of the cheapest results but I decided to rate them on any particularly good deals that might make it worth checking this site when booking a trip.
The New York searches didn't return anything that was particularly noteworthy, but on the London search for a weekend stay it came back with two incredible hotels and the prices were certainly competitive with the results from the other sites.
It may well have been worth paying a little extra for a lot more luxury than you would usually get for that price.
If I were searching with a view to book then I may well have chosen to stay at the hotel that would have cost $256 per night, as it was certainly worth at least twice that and very well located.
There were no results for the Dominican Republic on the dates I was using; however, when I searched just for the location with no dates there was an amazing deal at a very prestigious hotel for just $105 a night and it was available at that price for every night until December 2017.
Conclusion
This site is not for anyone on a strict budget or with no flexibility on dates, but for someone with a little leg room in both of those departments I would say that this site is worth a visit.
11. Lastminutetravel.com

My rating: 5.4/10
Overall Impression
The search page was of a reasonable style and functionality; however, I couldn't specify either Soho or Manhattan on the London and New York searches until I had already generated the first set of results.
This is a bit of an oversight for a site that is specifically designed for last-minute bookings, which are likely to be needed in city locations.
Results
This site has borrowed some style ideas from Momondo, but the poor choice of design meant that it didn't quite work.
There is a lot of information on this and the Momondo site, but without the clever use of highlights and contrasts between colors, it became indecipherable.
There was a popup saying that calling would get a cheaper result that blocked everything upon loading the results page.
This site wouldn't allow me to search for the whole of the Dominican Republic and would only allow city-specific searches.
I focused on Santo Domingo, but the results are not really comparable to the others as a result.
Considering the claim to be the experts in last-minute bookings, this site failed to provide the cheapest room of this type.
They did, however, return the best value room when I checked the most popular rooms in the Dominican Republic in one year.
A surprising result for the last-minute company, but it did earn them some points.
The prices were largely competitive except when they returned the most expensive result for staying in London in six months.
Conclusion
The only reason to go to a site like this would be to book something at the last minute and there just wasn't any evidence that they are the experts in this field.
A few points for finding a good bargain in the Dominican Republic, but that wasn't enough to make it worth revisiting.
12. Cheaptickets.com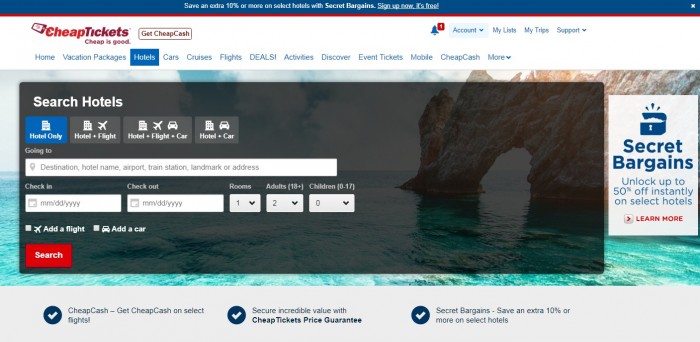 My Rating: 5.1/10
Overall Impression
The homepage of Cheaptickets is a cacophony of information that starts at the top with an eye-catching banner offering membership to get access to 'secret deals.'
Many sites have this offer and, having looked into them, I have concluded that they rarely present anything that would be worth the number of emails that you receive in exchange for joining.
Under this banner are the page menu headings that can take you to the service you want and it includes a tempting one-named DEALS; clicking on this will take you to a page of advertisements and a search engine to find weekly deals.
I could see no difference between this and the regular search engine, as it is still necessary to specify a destination and date selection.
Under the menu headings, you finally get to the main search engine and Cheaptickets seem to have everything on the vacation market covered and it is necessary to select one of the many services you are searching for before entering the search details.
This is a constant irritant and I would like to see more comparison sites making the criteria boxes invisible until after selecting the service or having the search criteria boxes relevant to all the possible options.
Having selected hotels it was fairly straightforward to enter the search criteria and the results came back quickly.
Results
The results page used the same template as that seen on Orbitz.com (see below) and included the underhand marketing ploys to encourage a panic purchase.
There were no stunningly low prices or bargains on four-star hotels to be found either.
Conclusion
There was nothing about this site that made it particularly pleasant to use and the results didn't offer anything that would make it worth using this site over any other either.
Worst Performing Cheap Hotel Booking Sites
13. Hotelscombined.com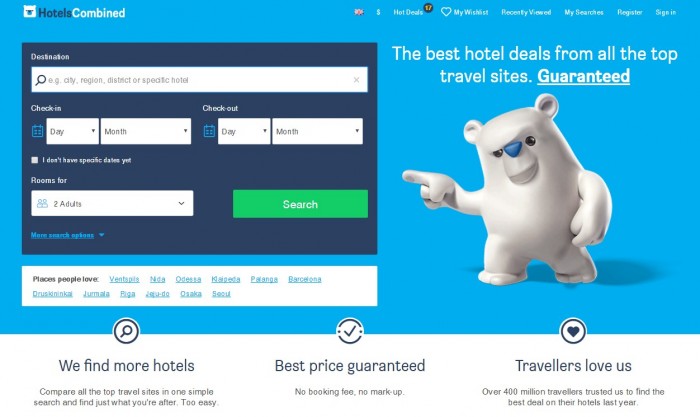 My rating: 3.5/10
Overall Impression
Despite being near the top of the list when searching for hotel comparison websites in Google, there was very little about this site to make it worth consideration.
There is a clean and easy-to-use search criteria page and the results did come back quickly.
Results
The result page was dated and unspectacular.
On the last-minute New York weekend search, it came back with a helpful warning about my chosen dates being expensive with 70% of hotels being booked for that weekend, and it offered alternative dates, which could have been useful if I had some flexibility.
Each hotel that is listed has the individual room prices listed underneath, which means you can only see the top two hotels on the list rather than being able to scan down through a few.
The London search only returned 12 results for the 'any rating' search and only 3 for the four-star search, and, bizarrely, the same hotel was the cheapest in both searches.
This site returned the most expensive result on two of the eleven searches conducted and was usually above the average price.
Conclusion
I gave this site a generous 3.5/10 for its ease of use, but there were no other reasons to recommend using this service.
14. Orbitz.com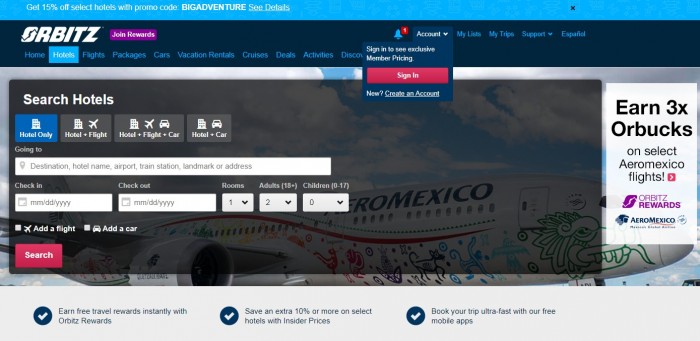 My Rating: 3.4/10
Overall Impression
Orbitz offers a fairly standard but functional search engine, although the homepage is littered with advertisements and invitations to join rewards clubs, which made it unappealing to the eye.
Results
The results page was also really busy, which made it confusing when trying to order the results by price or select additional criteria.
While negotiating the results page there was a series of messages warning that the area I was searching for was very popular and that 75 other people were currently searching the same area.
Variations of these messages came up regardless of the area or time period that I was searching for and were clearly designed to make the user worry about missing out on a deal and forcing a panic purchase.
I found this to be an unpleasant marketing strategy.
There was a popup window with an alternative search engine that was running behind the main result page and when I clicked on this to close it two further popup windows opened.
The prices were reasonable but there were no hidden gems to be found, and other sites returned better results without using tricks to encourage purchases.
Conclusion
This site was average across the board but the underhand marketing tricks brought it down to a below-average result.
15. Hipmunk.com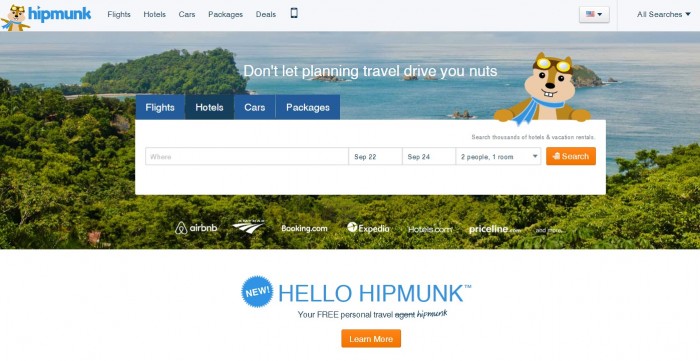 My Rating: 3.3/10
Overall Impression
Hipmunk's homepage is automatically set to search for flights and I wasted a little time entering my search criteria here before I realized.
This is a small detail but it is a problem that I encountered often enough for it to become irritating.
Results
The results were not presented in a list but in a grid.
This was really distracting and I couldn't find any way to change it.
The results returned all types of accommodation and it was necessary to go into a drop-down menu to find the option to only show hotels.
After this, it then showed the same Hotwire deals that I got from searching the Hotwire site, and again they were not in the specified area.
When I scrolled down to go past these deals I just found hotels that were sold out but still on the list.
The lowest-price hotels within the specified area were usually at least $20 more than the next best result.
Conclusion
This is not the worst of the sites that I reviewed for booking hotels, but there is little about it to make it stand out against the competition.
16. Hotelpricecompare.com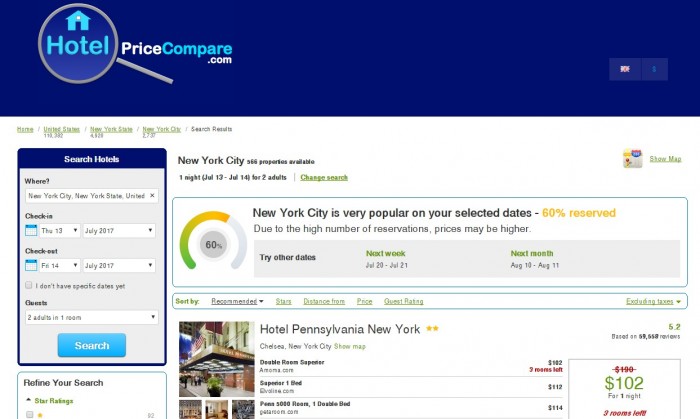 My rating: 2.8/10
Overall Impression
This didn't get off to a good start, with lots of superfluous information with blogs, lists and promotions on the data entry page, but the entry fields were fairly straightforward and easy to navigate.
Results
The results page was dated and fussy, with prices higher than average and the highest on two of the searches.
There were a few more additional options than average but certainly not enough to make it a reason to use this site in the future.
Conclusion
2.8/10 was generous and based on at least getting a result on every search and having a few more options to choose from if the customer needs them.
17. Priceline.com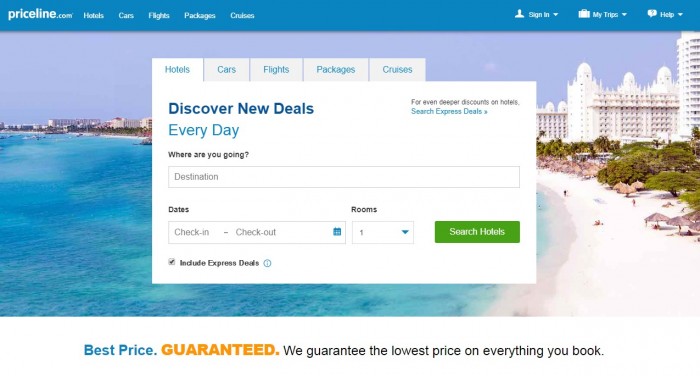 My rating: 2.7/10
Overall Impression
There was a promising start with Priceline with a very simple and clear search criteria page that didn't seem to be formulaic or dated.
The results took a while to come back and there was a mixed bag.
Results
It took a while for the results to come back and there were two popups that appeared in the background for alternative vacation services, and the result page wasn't particularly clear when compared to others.
There were very few additional search criteria options, and I couldn't see any option to filter out alternative accommodation types, so I had to scroll past hostels and Airbnb options to get to the hotel deals.
There is a button to choose 'express deals' and it isn't quite clear what this means, as it just says 'we choose the hotel, you save up to 60%' but when I clicked on it the cheapest option was $20 higher than on the usual search and for a very average hotel.
In conducting the London search it was practically impossible to discern which of the options were hotels and which were in the Soho district, so I have recorded them as a no result.
Priceline wouldn't allow searches over 6 months in advance, so I couldn't complete the searches on the Dominican Republic either.
I am sure this is not representative of people booking their big annual vacation and didn't seem to be a very good policy to me.
I was only able to get results from the four Manhattan searches, but all of them were, in fact, the cheapest price.
However, they were the exact same results as those offered by Booking.com.
Conclusion
There were some good results, but the functionality and failure to produce result s on the majority of searches made this site very undesirable.
As those results were mirrored by Booking.com, I would recommend cutting out the middle man and just using that site instead.
18. Hotelpricebot.com
My rating: 2.5/10
Overall Impression
This is the first of several sites that had clearly used a very unprofessional design made by some amateur web developers.  
The search criteria fields were simple and easy to use.
Results
The result page offered no discernible benefits, and it returned the highest price on two occasions and never the cheapest.
Overall, the prices were above average.
Conclusion
2.5/10 is generous.
19. Hotels-fairy.com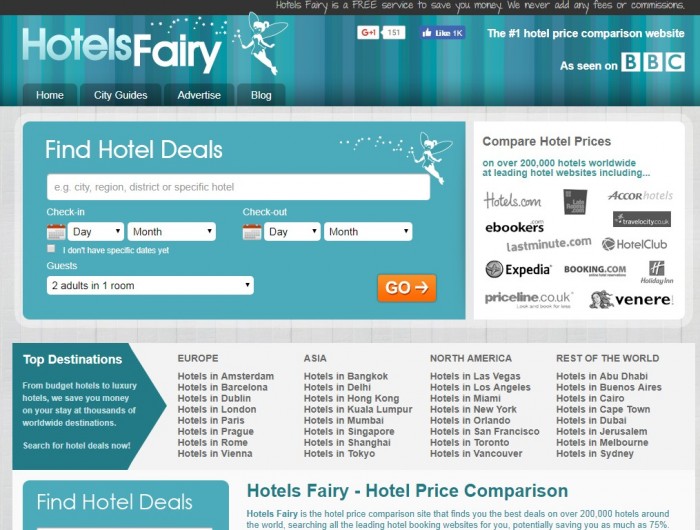 My rating: 2/10
Overall Impression
This site started with a search criteria entry field that made it look like they might have something different to offer and it was easy to use.
The welcome screen of the site told me this is "the #1 hotel price comparison website as seen on BBC."
It made me smile.
This is where the positives ended.
Results
The results came back quickly, and the results page looked like it was from the same template as many of the others.
However, it was very hard to read, as it was mostly writing on a white page without any colored backgrounds or highlights, so they had managed to reduce the quality of the template with their design choices.
Changing the criteria was more difficult than it should've been and there was a lot of superfluous information on the page, like a breakdown of how many hotels there were in the city that I was searching for.
I wasn't able to specify Soho when searching for the London breaks until I had conducted the initial search and then I could specify the area, but it wasn't easy to find this feature.
When you are offering a service that finds hotels in cities the size of London and New York, offering a specific district should be the bare minimum option.
This site never returned the best price and was the most expensive twice and higher than average every time.
Conclusion
I gave this a 2/10 because it does compare hotels but that is the only positive thing that can be said for this site.
20. Staycompared.com
My rating: 1.8/10
Overall Impression
This offered a very dated search criteria page and it was unresponsive and slow.
Once past this and onto the results page, it became clear that this was another site that was following a design template.
Results
There were no additional features to make this stand out and the results page was untidy, with very unwelcome popups showing me special offers that blocked the actual results.
Every time I used this site I had to close down at least two or three additional windows.
This was the most expensive site on two occasions and never the cheapest or most interesting.
Conclusion
1.8/10 was for performing the basic task, but I could find no reason to use this site over any others.
21. Laterooms.com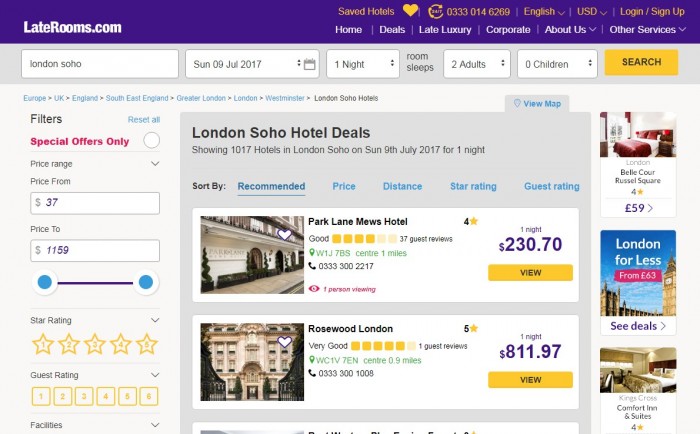 My rating: 1.5/10
Overall Impression
This site didn't offer a very user-friendly interface, with too many mouse clicks that were needed for such a simple process. 
The results came through fairly quickly, but the results page was dated, messy and difficult to decipher.
Results
Considering this site's unique selling point is that it is a late room specialist, the results were atrocious.
It was understandable that they returned either the most expensive result or closed to it on all the rooms being booked well in advance of, but the results were the same with the last-minute searches.
They actually returned the highest priced result for a last-minute room in London and were far from the cheapest in any of the others of this type.
When I tried to leave the site I was bombarded with popups suggesting other sites and offers. 
There was only one hotel available on the Dominican Republic search, and it was more expensive than anything other than the Expedia five-star result.
Conclusion
You can search for hotels and always get a result; otherwise, this would have scored just 1 out of 10.
Bottom Line
This is a constantly evolving industry but right now this is a pretty comprehensive guide of which sites you should consider visiting first.
It might just be possible to get yourself the perfect vacation with all the ease and none of the cost of using a travel agency.
Happy travels!
P.S. Did you find this review helpful?