Photo by: Tanzania on Foot
We are all hoping that our next vacation will be the trip of a lifetime, but our honeymoon is one particular experience that is expected to be head and shoulders above the rest.
That can be a lot of pressure on just one holiday and with the entire world to choose from it can be very hard to decide where it will be, especially with all the other wedding-related choices that are being made. 
Amongst the options for flowers, dresses, venues and caterers it could be very easy to resort to the standard romantic destinations for the honeymoon, but this is going to be the start of the rest of your married life together and it should reflect the future you are hoping for and it's also the opportunity to indulge yourselves guilt-free.
With that in mind, here are some cool, fun, and unique honeymoon ideas and destinations that might just be perfect for the first holiday you will take as a happily married couple.
 1. Zip Line in the Jungle of Belize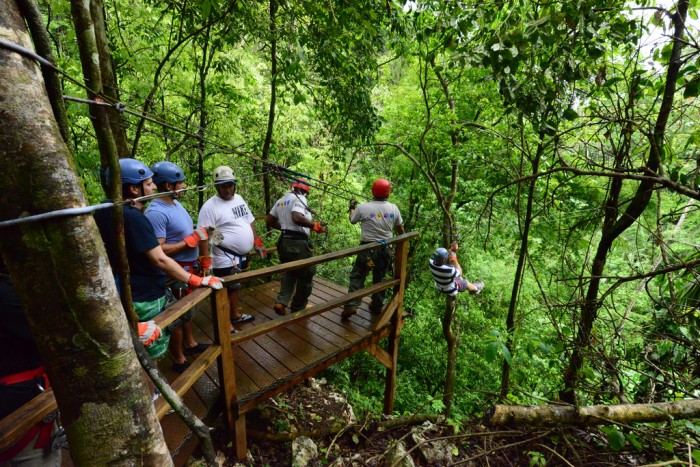 If you consider you and your betrothed to be the adventurous types then this could just be the honeymoon for you.
What could be more adventurous than a vacation in the tropical jungles of Belize?
There is no need to sacrifice comfort either, as there are five-star rooms available in canopy-skimming treehouses and riverside bungalows, hot tubs, gourmet restaurants and even fifteen acres of botanical gardens to enjoy.
The honeymoon package includes all meals, champagne on arrival and all drinks and refreshments during your stay, which is pretty standard.
What isn't standard is that you'll be experiencing all this amongst the exotic wildlife from the comfort of your veranda in the sky, or from your outdoor shower or bath, but what really sets this trip aside from the rest is the inclusive overnight cave experience.
During this remarkable outing, you and your spouse will explore the cave before being left to enjoy it by candlelight with a full-size bed, romantic netting and the sound of the fresh sparkling stream running past while you enjoy complimentary champagne and exotic delicacies.
If that doesn't sound adventurous enough for you, have no fear because the package also includes two days of adventures, and there are plenty to choose from.
There's horseback riding, zip lines, jungle expeditions, cave expeditions, river adventures, snorkeling and diving, and Mayan temple adventures.
All with full training and supervision and all included.
If you consider marriage to be an adventure, then this is probably one of the best ways to start yours.
2. Hobbit Holes in New Zealand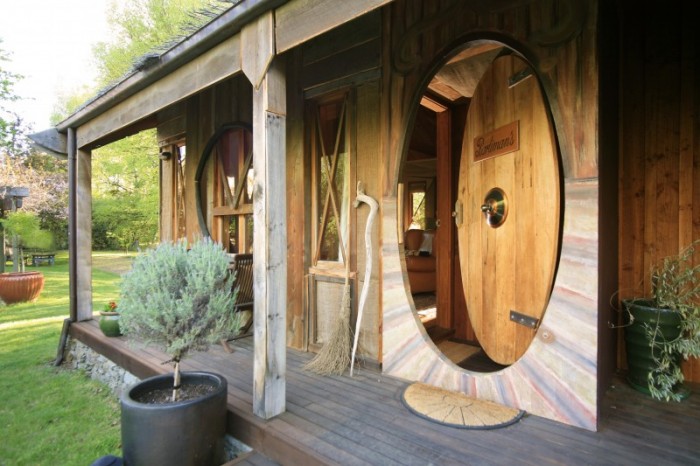 It has been an unbelievable sixteen years since the first Lord of the Rings film appeared in movie theaters across the globe and three years since the final Hobbit movie was released.
Whether you were already a fan of the books or discovered Middle Earth through Peter Jackson's eyes, it has been impossible to miss the spotlight that this has been permanently placed on the magical country of New Zealand as a result.
It is no coincidence that this is the place chosen to provide the backdrop for a film set in some of the most wondrous fantasy landscapes depicted in English literature. Whether you are a fan or not, there are copious reasons to visit.
In this emerald jewel of a country, you will find rolling hills, rocky mountains, winding rivers, sparkling streams, mirror lakes, a temperate climate, and exceptionally amicable people.
If, however, you are indeed fans, then there are unique opportunities to walk in the footsteps of your favorite literary or cinematic characters.
On the South Island of New Zealand near Lake Wanaka you will find yourself in the center of Middle Earth and you will also find the Minaret Lodge, which boasts the Barliman Room, a Hobbit-themed accommodation with the essential round door and over-sized wooden furniture, and while here you can choose from two Lord of the Rings packages.
Both packages consist of either four or nine days of activities including tours of the locations of some of the most famous movie scenes, overnight accommodation, breakfast, and, of course, second breakfast, feasts in halls, gatherings around the party tree and a chance to see and handle some very familiar props and costumes.
This is certainly a once in a lifetime experience that is fitting for this once in a lifetime honeymoon.
3. Hot Air Balloon over the Serengeti, Tanzania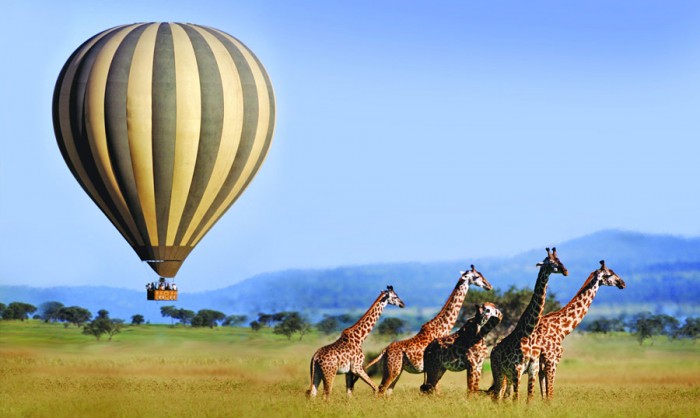 What better time than your honeymoon to cross at least three things off both of your bucket lists?
You can take a hot air balloon ride, visit Africa and see lions in the wild…all in one amazing vacation.
There are any number of tour operators offering incredible packages to the Serengeti and often with a special honeymoon package that includes five-star hotels with elaborate pools and sumptuous rooms, candlelit meals for two on the plain, tours of local anthropological sites, picnics and, of course, safari tours where you should expect to see elephants, flamingos, giraffes, impalas, lions, zebras, hippopotamuses, flamingos, rhinos and exotic birds all in their natural environment.
This would be spectacular enough on its own, but a hot air balloon trip in this environment may well make this an unbeatable vacation.
The adventure begins in the hours before dawn breaks when you are driven from your accommodation to the launch site, with the chance of catching a rare sight of the nocturnal wildlife that prowls the area after dark.
As you watch your balloon inflate, you meet your pilot and run through the safety information before boarding and rising as the sun rises.
From here on your journey is dictated by the wind and the currents in the air.
No two trips are ever the same and there will be times when you are barely skimming the tops of the trees with a perfect view of the animals below and then you will be a thousand feet in the air gazing in wonder at the Serengeti plains spreading out before you.
When you land, you will have a new perspective that you share with your new life partner that will stay with you forever, and you will also have a bottle of champagne, which is a tradition that has been around for as long as there have been hot air balloons.
Following the bubbly, you are treated to an unusually civilized breakfast with the finest china and best silver cutlery all laid out on a table by a tree in the middle of the Serengeti.
This will be magical and totally unlike anyone else's experience of honeymoon.
4. Cruise The Galapagos Islands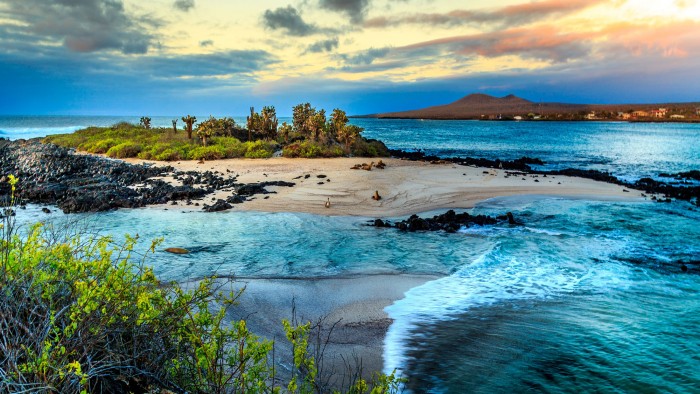 The Galapagos Islands really are the nature lover's paradise.
A volcanic archipelago located on the equator over 600 miles from the nearest landmass, it is known for having an entirely unique flora and fauna due to its isolation from any other landmass since life began.
It is here that Darwin started to develop his theory of evolution due to the wonder that he saw on the islands.
The islands are warm all year round and have the white sand beaches and crystal blue waters that we all want from a coastal vacation.
They provide the perfect home for an incredible range of animals including turtles, whales, sea lions, the infamous blue-footed boobies, albatross and penguins.
The most luxurious way to see all that these incredible islands have to offer is on island-hopping tours with  qualified guides who will make sure you don't miss any of the fascinating migrations, mating rituals and birthing patterns of the plethora of animals on offer.
While onboard you can expect five-star accommodation, excursions to the best hotels and a great selection of food, drinks, and refreshments, including packing you a picnic for your adventures on land.
There is also an option to get familiar with the equally fascinating marine life by taking snorkeling and diving lessons while you are in such a prime location.
This would be a truly magical way to start married life and would guarantee memories that you and your spouse would treasure forever.
5. The Lake Palace in India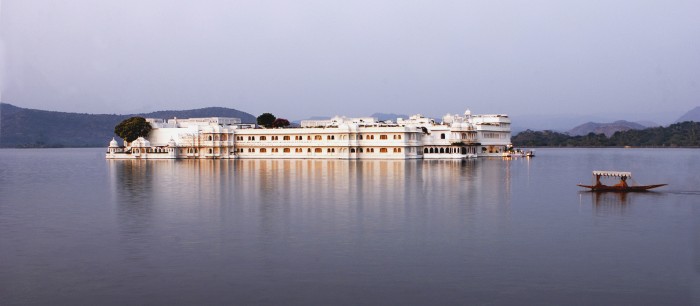 The Taj Lake Palace of Udaipur is not just a hotel by a lake; this astounding display of opulent extravagance was constructed on an island in the lake and appears to be floating on the surface with no sight of the land upon which it is built.
Every inch of this structure speaks of luxury and self-indulgence.
Its history makes it the perfect place for a romantic honeymoon, as it was commissioned in 1746 by a passionate young prince who wanted some privacy to conduct his amorous affairs.
It went on to provide the location for Octopussy's lair in the Bond film of the same name, so its credentials for salacious engagements are outstanding.
Its location means that every single room is a room with a view, as are the pool and promenade areas.
There are daily heritage walks to learn about the history of the palace, which are of course accompanied with wine and canapes.
The palace is home to a luxury spa, seventeen suites, and over sixty luxury rooms.
There are also two restaurants that are for the exclusive use of the resident guests.
Should you wish to leave the palace, you will find Udaipur to be a city rich in culture, waterways, lakes, and beauty that has earned it the nickname the Venice of the East.
There are excursions available from the palace and you can even arrange to view Udaipur using one of the vintage cars on offer to guests.
For a honeymoon that is unique, luxurious and unforgettable, this has to be high on the list of possibilities.
6. Caves in Cappadocia, Turkey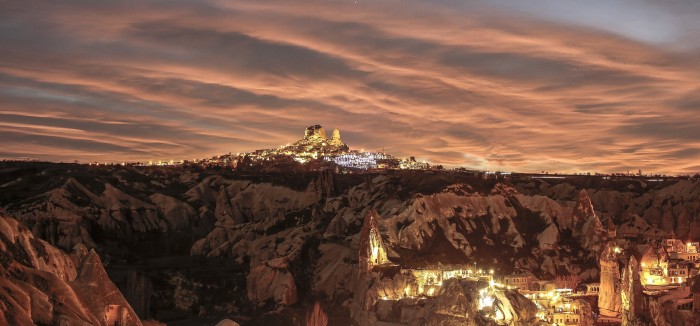 In central Turkey you will find the remarkable region of Cappadocia, famed for its ancient prehistoric homes and fields of temples with the unmistakable fairy chimneys that give the local landscape its ethereal and wondrous charm.
Spending time in this site of natural geological wonder can feel like stepping into a fantasy world and back in time.
The area has a rich history with written records that date back to 6 BC and many wonderful heritage sites to visit.
Staying anywhere in this part of the world would feel great, but this is a honeymoon, so it deserves something a little special.
Rather than just visiting the unique natural landscape, you can stay in it.
The Sultan Cave Hotel has been built into the natural rock formation with stone terraces, views of the valleys and rooms shaped by the original cave walls.
The entire stay will be a visual feast and the hotel facilities are of a standard to match the splendor of its surroundings.
There's a good chance you'll spend more time looking at your holiday photos than the ones you get from the wedding!
7. Portmeirion Village in Wales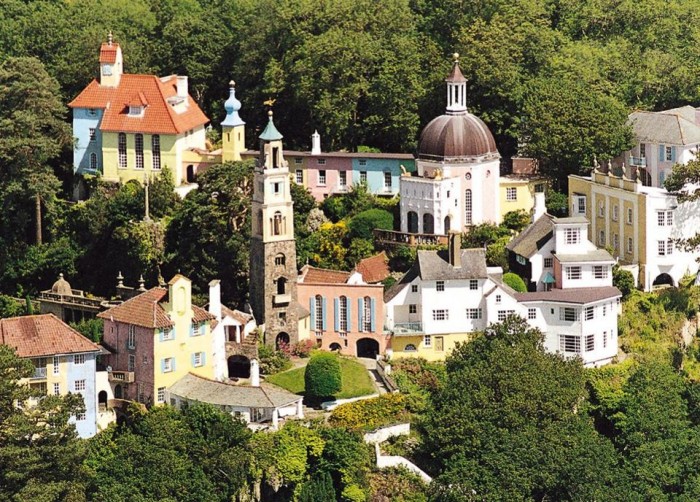 Portmeirion is a bizarre architectural and historical delight which can be found on the coast of North Wales where the River Dwyryd meets the sea.
It was designed by its owner, Sir Clough Williams Ellis, who was a rather eccentric and very fashionable architect of the 1930s.
He worked on the project from 1933 until 1975, with the Castell Deudraeth conversion being completed posthumously in 2001.
The village borrows a lot of its style from Italy, but it also borrows fragments of actual buildings, as Ellis wanted to incorporate parts of other architecture work into his designs.
The result is an otherworldly, whimsical and enchanted place that is unlike anything else that you will find on the British Isles.
Whitestone walls, bright colorful gardens, playful design features, towers, tunnels, follies, and idiosyncratic statues and carvings — there is something to see around every corner.
It may not be a surprise to learn that the complex has been the backdrop for film and TV shows since the 1960s, most famously for the iconic Prisoner series, but also music videos and culture shows.
There have also been a lot of very famous guests to the village, including Ringo Starr and Paul McCartney.
With the exception of some shops and facilities, the entire village is populated with tourists, as the majority of the dwellings are vacation lets, so there is a great choice of places to stay with rooms in the Castell Hotel or the Portmeirion Hotel, which is the epicenter of the village, or an entire cottage, with interiors that you won't get anywhere else in the world.
This will be a quirky and unusual start to married bliss with endless photo opportunities to capture this special vacation forever.
8. The End of the World Tour in Argentina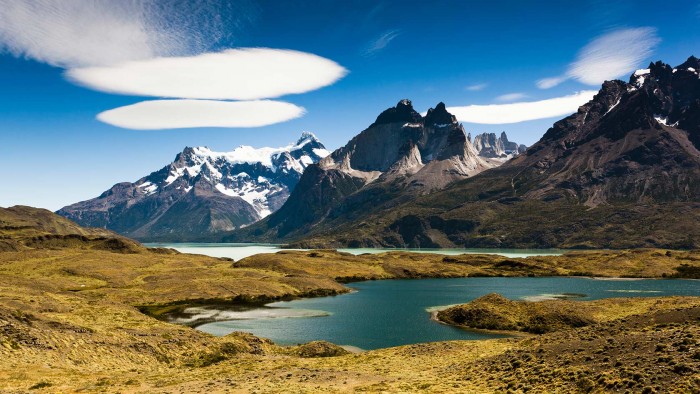 If relaxing for two weeks just isn't up your street, then fifteen days of touring the most southern landmass on the planet might be the honeymoon for you.
It starts in Buenos Aires, where you will meet your fellow travelers and enjoy this vibrant and cosmopolitan city for a night before the journey begins.
After this first night and you will marvel at a new wonder in this unspoiled wilderness every single day until you return to the city with new friends and new shared memories that you will treasure forever.
The tour is supervised by local guides who will make sure you don't miss a thing and it can be demanding, but the guides make it suitable for anyone with an adventurous spirit and a good level of fitness.
The tour includes snow-topped mountains, glaciers, penguins, the plains of Patagonia, villages, an excursion to the National Park of Chile, flamingos and, of course, Ushuaia, the southernmost city in the world.
From the city you can take trips to enjoy a 4WD trip or horseback riding or bird watching, all from a real global landmark that gives boasting rights for you and your new spouse for a good few years.
9. Hot Springs in Iceland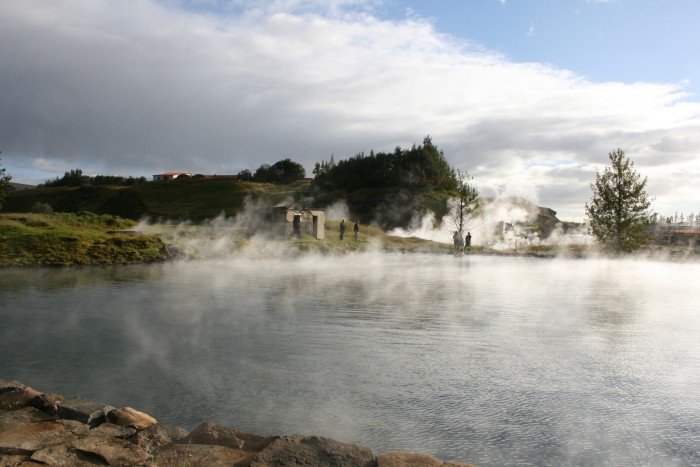 Iceland could be considered a bit of a misnomer, as it was formed from ancient volcanic eruptions and is one of only ten geothermic countries in the world.
These traits are evident in its dramatic lush green landscapes, rocky terrain and magical steaming hot springs.
There are many hot springs to visit during a trip to this magical country, but it is advised that the most famous Blue Lagoon should actually be avoided as it is expensive, often overcrowded and is actually man made.
Instead you should take yourself one hour out of Reykjavik, the capital of Iceland, to discover the Secret Lagoon in the geothermal area near the town of Fludir.
There has been a public bath on this site since the 19th century and it is still one of the best-kept secrets in Europe.
Here you can follow the carefully marked trails through volcanic rock to see the moss-coated rocks emerging from the steam in these outstanding natural surroundings.
There are changing, showering and dining facilities on site but, more importantly, in the winter months you can recline in the warm reinvigorating mineral water, sip on a chilled Icelandic wine and look up to watch the Aurora borealis (northern lights) dance in the night sky above you and your new spouse.
This could be a perfect way to set the tone for a happy future together.
10. Visit Dracula's Castle in Transylvania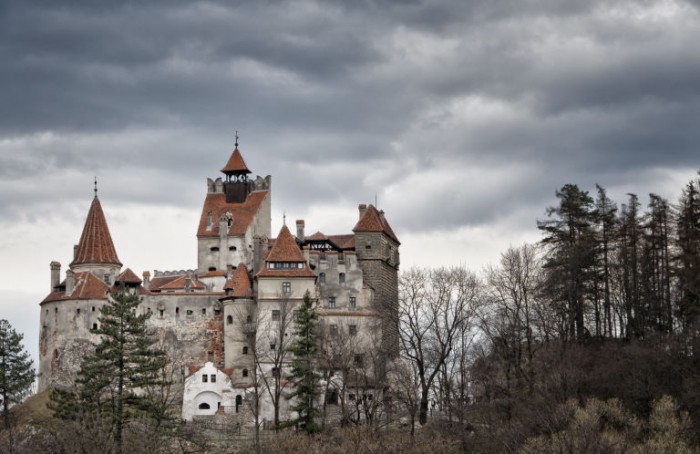 If you and your betrothed have an interest in Gothic history and the more macabre history of Eastern Europe, then this is a great option for your honeymoon.
A visit to Romania should start in the country's rich and vibrant capital, but to really get the most out of the country it is advisable to get a train that will take you from Bucharest through the majestic vistas of the dramatic Carpathian Mountains to the pristine countryside of Transylvania.
Thanks to Bram Stoker's infamous novel, there is a misconception that Transylvania is fictional or that it is a dark and dangerous place inhabited by lifeless creatures of the night.
Well, it is, in fact, most definitely real but it is home to landscapes that are more synonymous with fairy tales than horror stories.
The area has been shaped by the mountains that made any attempt to journey beyond them almost impossible for centuries.
The result was a colorful and unique local culture that was enterprising, productive and isolated.
This is reflected in the beauty of the area with wild wetlands along the River Danube, untouched ancient forests and untamed slopes dotted with medieval villages and towns with quaint cobbled streets and crooked buildings.
The area is soaked in romance and is the perfect backdrop to a European honeymoon with a difference.
No visit to the area would be complete without a day in Bran, a typical Romanian village of white-walled red-roofed houses nestled in a wooded valley at the foot of the mountains.
Since the 14th Century this picturesque scene has been dominated by the notorious Bran Castle looking down from the surrounding cliffs.
There is no denying that it certainly looks like the stuff of legends with its multiple minarets, levels, turrets, and imposing stone walls, and it has a chequered past worthy of a visit.
In truth, the connections to the original vampire, Vlad the Impaler, are tenuous at best and there is no real evidence to suggest that Bram Stoker's novel was inspired by this impressive structure, but please don't let this stop you from visiting and soaking up the historic atmosphere and beauty of this incredible relic of antiquity.
This is a great time to see this part of the world while it is still relatively untouched by tourism.
It is a haven for tradition and romance that provides the perfect setting for a honeymoon with a difference.
11. Sala Silvermine in Sweden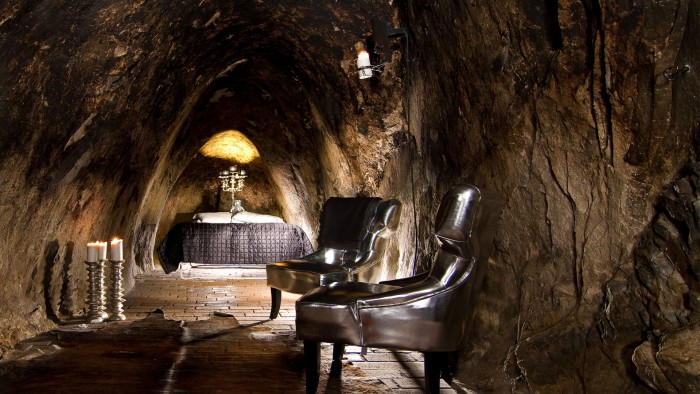 This unusual honeymoon gives you the opportunity to spend your first night together as a married couple in the deepest bedroom in the world.
Now, how many people can make that claim?
The Sala Silvermine started producing silver in the 1500s and only stopped at the start of the 20th Century.
It is located in the Vastmanland County, which is laced with rivers, lakes and natural parks, but is also known for its industry, with the silvermine having been a major part of that heritage.
Almost 500 years of mining has made quite an impact on the land and the caves; great halls and shafts have now been put to great use as a fascinating tourist attraction.
There are daily tours of different aspects of the mine, which is fascinating in itself, but there are also grand concerts held in the great underground halls that are lit with soft lighting, as the incredible acoustics are taken full advantage of.
There are also lots of activities to take part in too with high rope bridges, zip lines over gaping excavations and potholing for the really adventurous.
There is really quirky accommodation available here too with a stylish boutique guesthouse that was originally lodging for the single miners that worked on the site and has been sympathetically upgraded, but the real draw of this place for honeymooners is the World's Deepest Suite.
An incredible 155 meters underground, you will start your stay with a tour that takes you through caverns and crevices carved out of the pure rock on that level of the mine before being led to your unusual room.
Needless to say, there are no staff and no phone signals down there, so you will be left with a walkie-talkie, a basket of treats and a bottle of champagne, and there will be no need to use a don't disturb sign down there.
The room is incredibly atmospheric with candlelight bouncing off the silver furnishings and spotlighting the oversized giant bed covered in thick furs and blankets.
They will be very necessary, as this part of the mine is usually just above freezing; the room itself has been warmed to 18 degrees, but you will still need those covers!
In the morning your guide comes to bring you breakfast before leading you back to the surface.
This would be a fantastic way to start your life as a new family and can just be part of a longer tour of the area if a fortnight at 18 degrees sounds like it might be a bit of a chilly way to start a marriage.
12. Water Park in Berlin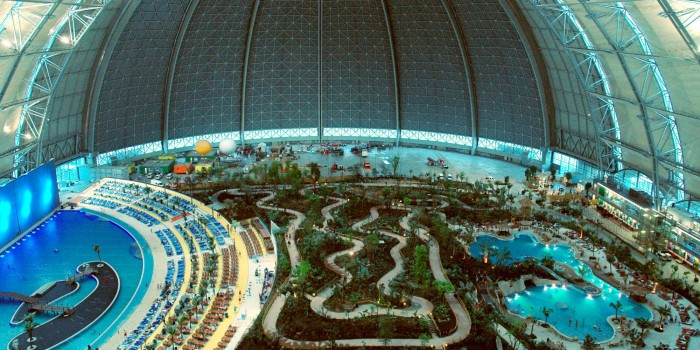 There are not many water parks that are worthy of a place on a list of best honeymoon destinations, but Tropical Islands is nothing short of a phenomenon.
In the Brandenburg countryside halfway between Berlin and Frankfurt rises the 107 meter high dome of a former aircraft hanger that has undergone an incredible metamorphosis.
The dome itself covers an area of 66,000 square meters and is big enough to fit the Statue of Liberty inside.
The feat of engineering that has gone into maintaining the constant 26 degree temperature throughout such an enormous space is astounding.
They have converted some of the roofs with a modified foil that allows ultraviolet rays through so that guests can actually get a natural tan from the sun's rays despite being shielded from the cold.
Then there are the facilities, and within the dome, they have space for several dwelling options.
You can camp in either basic or luxury tents or you can opt for one of four standards of rooms, and finally, there are two varieties of lodges.
All of these are luxurious and contemporary in design, although toilet facilities are separate.
That is a small price to pay when you discover the places where they have located these sleeping options.
Within this dome there is a rainforest; yes, a rainforest big enough to need a 0.6 mile trail to see it all with over 600 varieties of plant life, turtles, parrots, and flamingos.
Then, of course, there are the water features as one would expect at a water park but, as with everything else here, they are just a little more special.
The tropical sea has a beach with palm trees and is realistic enough to have diving lessons taking place there.
Then there is the lagoon with its balmy waters, flowing streams and waterfalls, or you may want to brave the incredible water slides, with the fastest reaching speeds of 43 mph.
All of the accommodations are dotted around the different areas and you get to choose the exact spot when you book your stay.
When the weather permits you may want to head out of the dome to Amazonia.
This is an outside water area set in beautifully manicured grounds and surrounded by its flowing raft stream for you to float around at your leisure. And in an area the same size of the dome itself is a camping and holiday home area, so you can stay separately from the action should you want to.
Back inside the dome, there are bars, restaurants, and shops, and if you want the best view you could choose to ride in the hot air balloons that will take you up the dome's roof.
This really is a fantastical place full of fun and wonder that you are unlikely to find anywhere else.
Of course the wonderful city of Berlin is only a short distance away should you feel the need to pursue some more adult activities during a honeymoon that will largely be about having as much fun as possible, and that can't be a bad plan, can it?
Bottom Line
So that's my selection of cool, fun and unique honeymoon ideas for the couple who likes to think a little outside of the box when it comes to celebrating their nuptials.
I hope that I have provided some inspiration and that you will create some incredible memories wherever you choose to take this very important vacation.
Happy Travels!
P.S. What's the plan for your honeymoon in 2019?