#1 Choice! find your cheapest flight in 2020:
Best airline ticket prices are 100% guaranteed. Any US and Worldwide destination. Discounts up to 70%.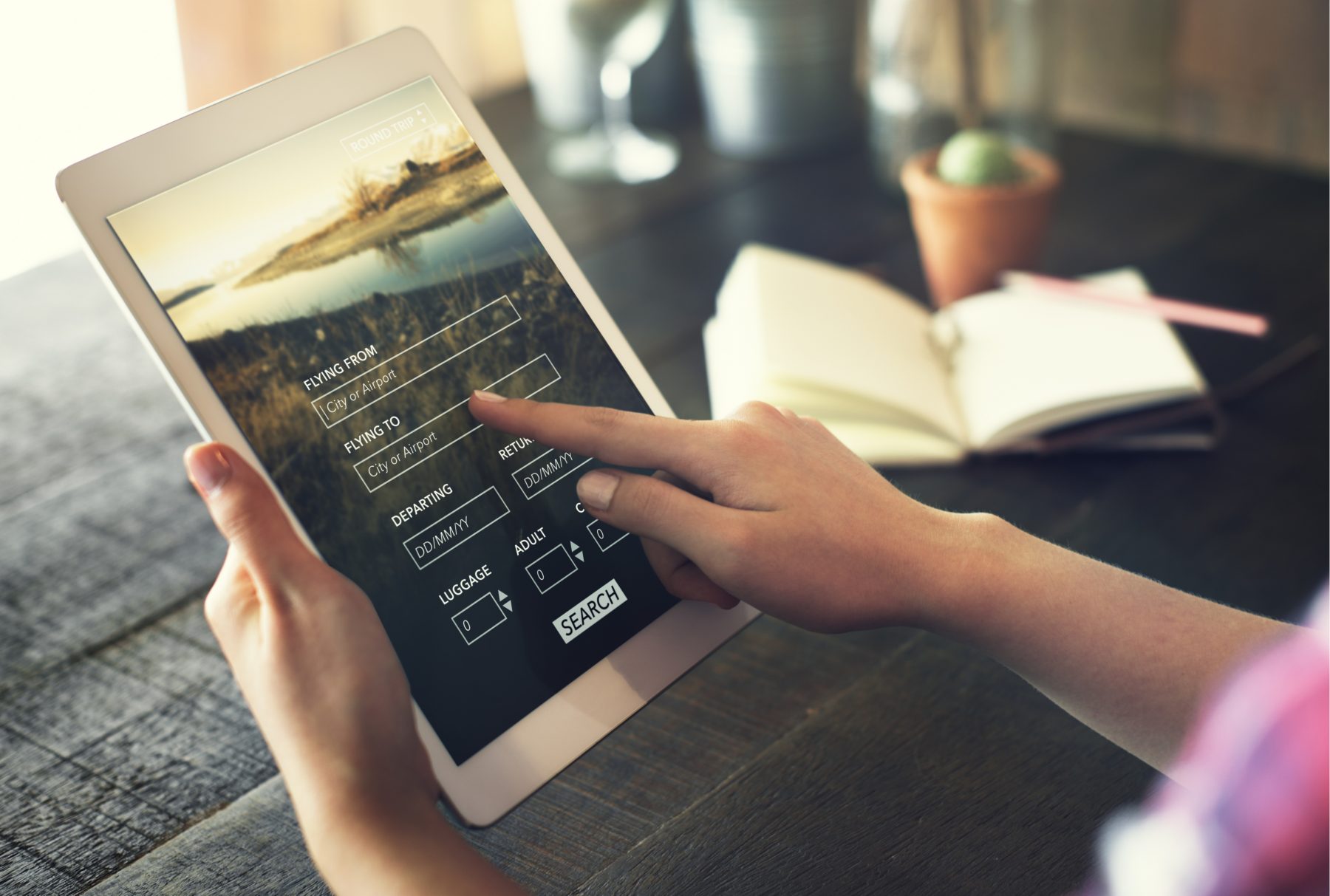 Hurry up to get the best flight deal: Click here
I have written and read many articles claiming that a lack of money should be no obstacle to travel and there are countless hints and tips on making budget trips, but one costly aspect of seeing the world is almost unavoidable…flights.
There is so much to consider when choosing your flight and it seems that an equal amount of considerations need to be given when choosing your flight comparison site.
The site needs to be easy and pleasant to use, it needs to come up with the best prices, there needs to be a clear display of results so that all factors can be considered, and there need to be useful search options that are relevant to individual travelers while not making the process too complex.
With so many meta travel search engines to choose from in 2020 it can get very confusing, and the benefits of all those choices can be swallowed up with the time and effort taken just to find the right provider.
With that in mind, I have conducted a pretty thorough review of a selection of services from across the board to help the discerning traveler decide which service to use.
The prices are important, so I have included the price results in the reviews when they are relevant to the comparison, and I've highlighted how often each provider found the cheapest option. Keep in mind these numbers are very specific to the time and date of the search and are just to provide a benchmark rather than a price comparison.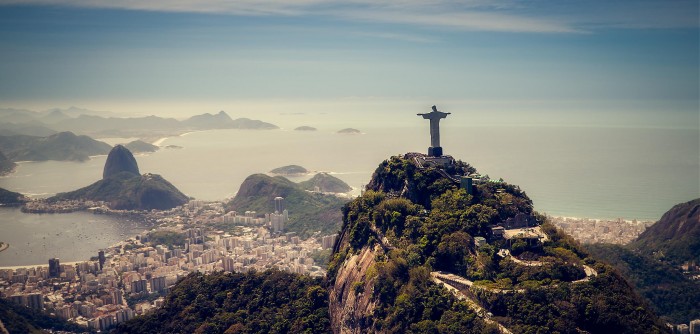 The prices also should not be considered without reading the review, as some of those cheaper prices will come with a compromise that is too much for some customers' needs.
These are the search parameters I used for each service provider:
1. New York – Los Angeles, departure in 24 hr/4 weeks/6 months
2. New York – Hong Kong, departure in 24 hr/4 weeks/6 months (maximum 5-hour stopover)
3. New York – London, departure in 24 hr/4 weeks/6 months (direct only)
4. New York – Rio de Janeiro, departure in 24 hr/4 weeks/6 months (maximum 25 hours of total journey time)
Click here to get the best airline ticket prices in 2020
For each provider, I have given a summary of my general observations regarding factors such as the facilities, user interface, and aesthetics.
I have then recorded any observations regarding the search results and, finally, my overall conclusion.
There is no clever algorithm to churn out a score for each provider and to offer you a perfect solution, but I have given each provider a mark out of 10.
I have relied on just my personal experience of using each of the sites and an understanding of the needs of the average traveler at different times to assess the score.
I found this to be a useful process and know that my search methods will change as a result of it, so I hope you find the results helpful too.
1. Momondo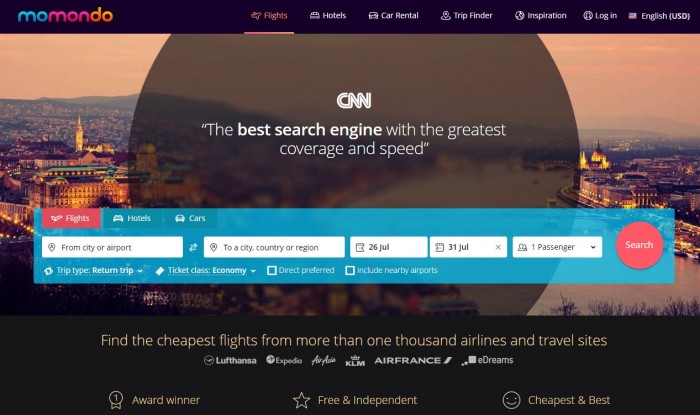 My Rating: 8.9/10
General Observations
The initial impression with Momondo isn't the best, as the search page is cluttered and it leads you to the next field each time, which doesn't allow for entering 'one way' or 'ticket class' without shutting down drop-down menus.
This can look confusing, especially with the scrolling images overlaid with articles and testimonials going on in the background plus the lists of awards they've won listed underneath the search engine.
However, once the search criterion has been entered the site significantly improves upon reaching the results page.
It is a visually pleasing and easy to navigate interface.
There is an easy to read graph so you can see which alternative days might be cheaper at a glance.
Right at the top of the results is a defined categorization of 'cheapest', 'quickest' and 'best' because only you know which of those is most important to you.
Click here to get the best airline ticket prices in 2020
My experience was that these were accurate assessments in most cases too.
In the sidebar is the option to remove any flights with more stops than you are willing to make and a quick reference to any nearby airports and the price difference of using them instead.
Another feature that works is the emoji accompanied by a score out of 10 that you find at the side of each result.
This is Momondo's scale of price to journey length ratio and it indicates a real understanding of the sort of information customers will be looking for.
Result-Specific Observations

The last-minute NYC-LAX flight was a full $12 cheaper than the next best price and there was a great recommendation of landing at nearby John Wayne airport for $35 less.
This option may have been possible to find on other sites, but it was clear and easy at Momondo.
The 'quickest, cheapest and best' results display really came into its own when searching for the international flights, as the price and time differences were vast and would definitely influence any customer's final choice.
It was great to see it so easily.
However, during one of the international searches, the 'best' option was a flight with just 1.5 hours' stopover but with a hefty $280 additional price tag for the privilege.
This was in comparison to a flight I had found on other sites with just a 3-hour stopover.
The same flight was still on Momondo and it was predictably cheaper by $40, but it wasn't as easy to find as usual.
It is just worth noting that while Momondo is generally good at selecting the 'best' option, it is not infallible and the results need to be scanned to make sure they are presenting the best deal.
An important lesson regarding looking for the cheapest flights was learned when searching for last-minute deals from New York to London, as Momondo produced a flight for $425, which was around $20 more than the next best but was an incredible 7 hours shorter than any other flight that was found on all 16 search engines.
The last-minute flights to Rio got some wildly different results and Momondo once again found the best option in terms of stops, length, and price, but it failed to flag it up.
Instead, the 'best' result was double the lowest price with only a savings of 5.5 hours of flight time.
When you start getting into four figures with your flight price, you need to be really valuing those 5 hours to decide that this is the best option!
Conclusion
I found Momondo to have some very useful features, it was easy to use and it outperformed all of the other services by finding the cheapest fare an amazing 7 times out of the 12 searches.
While it is not infallible and I may double-check the results when I have time, there is no doubt that this is my personal favorite.
2. Skyscanner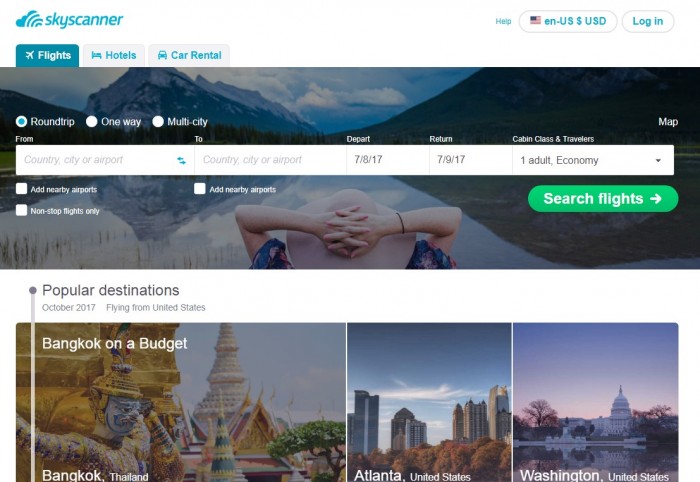 My Rating: 8.6/10
General Observations
This is a slick and smooth service that appears to have looked at the other services on offer and thought, how do we improve on that?
The search engine is easy to use and there is an option to choose any airport for the more adventurous amongst us.
The results are reasonably clear, although this is a page that could do with some improvements to make it easier to read.
There are plenty of suitable warnings about checking for additional fees before the booking process starts too.
There are some pretty useful additional features in the sidebar with options that allow you to consider an ideal take-off time, length of journey, nearby airports and a few other specific details that will be of use to some customers.
This was one of the sites that made making several searches a little more complex than was absolutely necessary.
Click here to get the best airline ticket prices in 2020
For the purpose of this review it was necessary for me to return to the sites to conduct a new search, and while this is not how people usually use the services, it is not uncommon for customers to try more than one set of search parameters in a single sitting, and Skyscanner made it necessary to refresh the last search before you could enter a new search.
This was time-consuming and frustrating at times.
Result-Specific Observations
Without too much fuss they performed well on price point too, being close to the cheapest fare on a few occasions and never being the most expensive.
The results for the international searches really came into their own here, as the display made it very easy to see the flight times, stopover time and total journey time, which helps when deciding which option is preferable.
There was no option to set your maximum stopover time, which was a shame, as this was a useful feature on other websites and I am sure that this will be a deciding factor for many travelers.
Conclusion
As a relative newcomer, this is an impressive site but I think it really comes into its own when it is used as a mobile app, which is a service that other search engines of its type are failing to address.
Skyscanner is a good all-rounder that could easily be the first port of call for those customers who are lacking the time or motivation to check a number of providers before booking their flight.
3. Kayak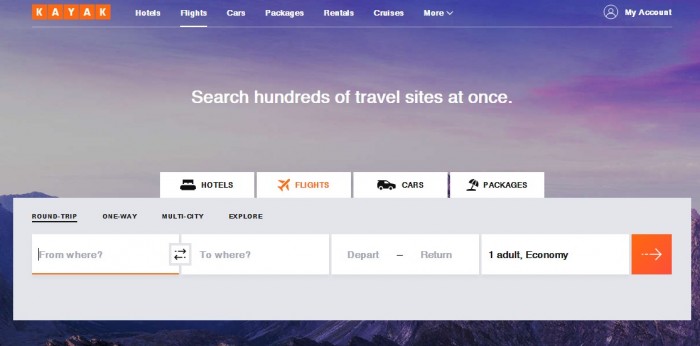 My Rating: 8.3/10
General Observations
This is the old school getaway search organization that seems to keep reinventing itself just enough to stay in the game, and at first glance it seems that they are still keeping ahead of the pack.
The user interface is clean, crisp and simple.
The options in the drop-down boxes are useful, although it does automatically go to the next field with a drop-down menu, which can make adjusting former fields or clicking on one of the buttons for alternative options a little problematic.
On style, it is doing well at this point though.
Once you click on search it loses a little of its shine.
The first thing that happens is a popup offering price alerts.
While this can be a useful service, this popup is a blatant attempt to get an email address out of the customer before you've even seen the prices on offer.
It is just a little inconvenient and unnecessary, as most reputable organizations offer this service, but it is presented as a button you can click should you be interested, rather than it being an obstacle to getting to the information that you want.
Result-Specific Observations
Once I could see the options, I found it a little annoying that the results were listed in order of the number of stopovers first and then the price, even when you stipulate that price is the priority.
Having scrolled past the non-stop options, it transpires that the flight prices are average at best.
Click here to get the best airline ticket prices in 2020
In the sidebar, there is an interesting service, as they offer a prediction as to whether or not the fares are going to decrease in price in the coming weeks.
Of course, I am not sure how reliable this is, but Kayak is staking their reputation on this, so it may be worth taking into account when deciding whether or not to book or wait for a better offer.
Conclusion
Kayak is still going for a reason, it searches lots of companies very quickly, makes booking and selecting easy, and it is familiar, but I am not sure it should still be the first site that people consider when planning the most expensive and potentially problematic element of their vacation or business trip.
There are a few features that make this a possible option for future searches, and I may use the site for their prediction of future prices if I have the luxury of time.
4. DoHop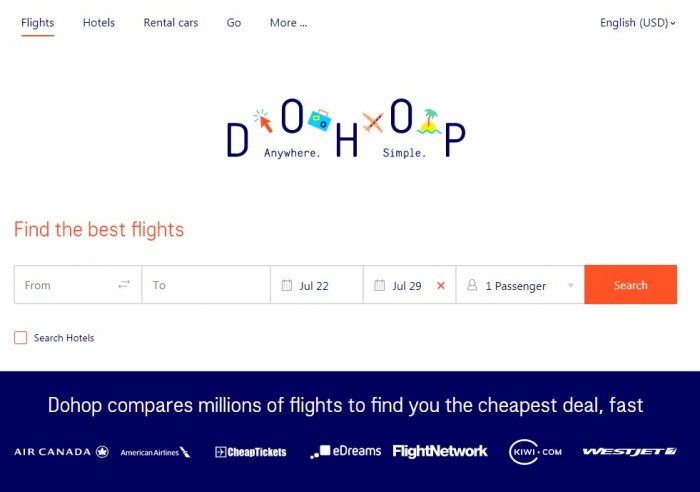 My Rating: 8.2/10
General Observations
This service provides a very dated interface and the search fields were unclear and overly complex to navigate.
It is automatically set to a return flight and it took some searching to find the option to search for a one-way flight only.
However, this is where the complaints come to an end.
Result-Specific Observations
The result page was surprisingly good after the experience of the search page.
It was clear and easy to read with the same function as Momondo with three main options displayed at the top: cheapest, quickest and best.
With the USA domestic flights, all three were cheaper than the average flight price I had found so far.
To be clear, there were some problems, and the cheapest option would take over 24 hours compared to the 8 hours that the majority of sites were offering.
The quickest was just under 6 hours but cost $411, which is a lot more than the $316 price tag that I had found for a similar-length flight from Momondo, and the best was $300 for just over 7 hours, but it took you straight to Santa Ana, which is about a two-hour drive from LAX.
There was an unexplained surprise on this site when I searched for the international flight 6 months in advance, as it found a flight for around $30 less than the next best.
Click here to get the best airline ticket prices in 2020
It was initially stated that the flight was $50 and the tour operator added $20 in fees once you got to the checkout, but it was still an excellent deal in comparison to the rest.
The exact same flight was actually a few dollars more than the cheapest flight on all other service providers.
I couldn't quite work out how or why this happened but it supports the idea that this site should be checked at the same time as the usual suspects before booking.
There were no pleasant surprises with the international search, but the clear results display and better than average prices made it one of the better engines to use for this type of search too.
Conclusion
I actually looked forward to using this service each time, as it was friendly and there was the possibility of a surprising result being only one of five that returned the cheapest flight overall.
This engine certainly puts the effort in and very nearly delivers, but it falls a little short of the mark.
However, if speed or price is definitely more important than any other consideration, then this is a site that might actually be worth considering ahead of some of the big hitters.
5. Trip Advisor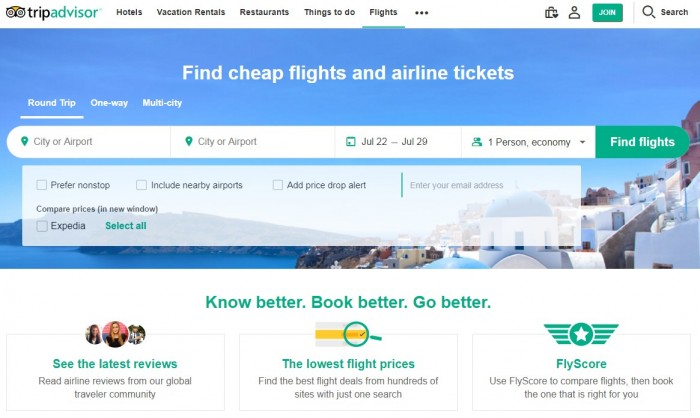 My Rating: 7.8/10
General Observations
This site is a familiar place for any traveler but its reputation for covering all aspects of travel has resulted in it being a bit of a jack of all trades and master of none.
When searching for flights you have to navigate your way through blogs, hotel reviews, things to do and any number of travel-related advice before you find the flight search engine.
The search itself is pretty straightforward and once you have the results it is then possible to specify some additional criteria such as WiFi, power and legroom, so if there is a service of particular importance to you then this would be a good site to use.
Result-Specific Observations
The results page is a little confusing, with sponsored flights making their way to the top of the list ahead of the cheapest or best options.
There has been some attempt to emulate the 'agony' feature of the Hipmunk site with an option to list results by their 'Fyscore'.
This is still in beta testing and eliminated the majority of cheaper flights at this early stage and it is unclear exactly how the scoring works, so they may not have the same criteria as you when they decide just how agonizing the flight is.
If they get it right then it will elevate this flight search engine, as it has a lot of positive aspects to it.
There were mixed results for the international flight searches.
It presented a problem in that the cheapest flights with an excess of 10-hour stopover times were listed first, but there were several more of them than in other search results so it took a lot of scrolling to get to a flight that met the 'under 5-hour stopover' criteria.
However, when it was found, it was significantly cheaper than the average price for the same flight.
Not the cheapest, but cheap enough to justify a mention.
It did manage to produce the cheapest flight on one occasion, as the search for a flight to Hong Kong 6 months in advance resulted in a flight that was $40 cheaper than the next best choice.
This is a good example of how occasionally there is an unusual deal to be found if shaving off a few dollars is worth a longer time spent searching in more than one place.
Conclusion
Trip Advisor is a trusted site with lots of great features, prices that competed with the average and one example of providing the cheapest option.
There are a lot of reasons to consider it as an option, and it certainly makes it into my personal top five.
6. Google Flights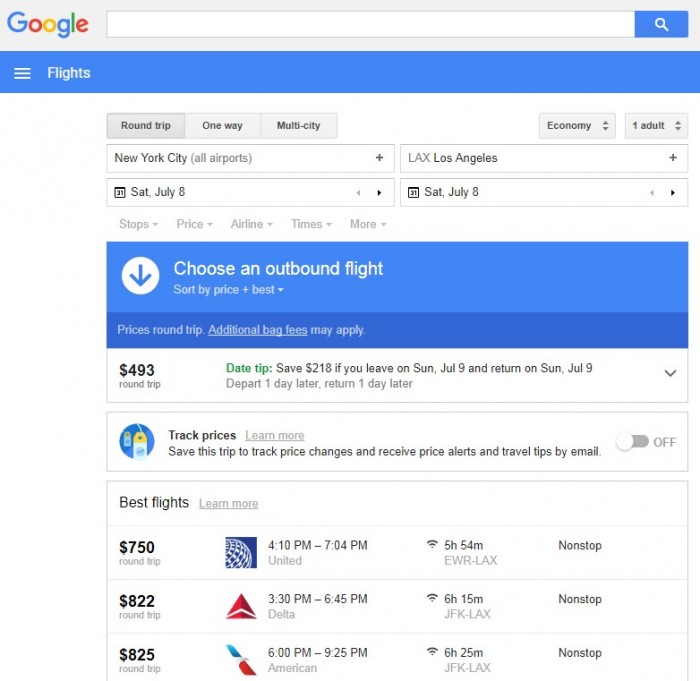 My Rating: 7.5/10
General Observations
This is a relatively new endeavor for Google and it should be no surprise to find that they are doing it very well.
A simple and straightforward user interface that is wonderfully familiar, if a little basic, and you can search for advance options before the initial search takes place too.
Click here to get the best airline ticket prices in 2020
A great feature reveals itself when you go to choose your dates for travel as the usual drop-down calendar appears, but under each date is the average price for a flight on that date, so if you're flexible it is really easy to see when would be best to travel at a glance.
That wasn't even the best thing about using Google though; it was just how quickly the results came back closely followed by how easy they were to read.
Result-Specific Observations
No notable surprises but the prices were always competitive.
Conclusion
The speed and ease of the service make it fair to say that Google is using their resources to full effect and is going to be a serious competitor in this field, but there is nothing to get Google into my personal top five (only top 10) at the moment.
Watch this space though.
7. HipMunk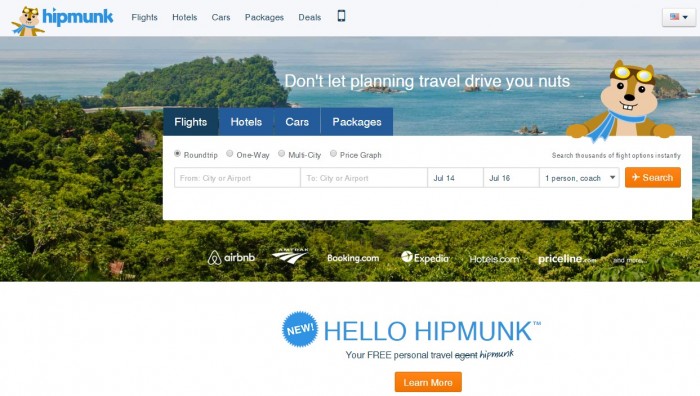 My Rating: 7.1/10
General Observations
Hipmunk has been around for a while and this may be why it looks a little dated, and it doesn't appear to have anything different to offer at first glance.
When entering the search parameters it does make it very clear that the pop-up results are either city or airport, which is often missing in similar search engines and can make a big difference to the results.
There is the option here to search for a price graph or a one-way journey; it doesn't appear to be possible to just have a price graph for whatever parameters you happen to be searching on, which is a step down from other services such as Momondo and Skyscanner.
Result-Specific Observations
The results page is confusing at first glance but it does have some interesting additional features.
You have the option to add the flight to a 'trip,' which is really handy if your next vacation involves more than one destination, as you can keep track of all your flights in one place.
There is much written about Hipmunks 'Agony' results option, which is where a calculation of how awful the flight might be based on length, stops and the price is made and then flights are ranked accordingly.
It is a great feature but it seems to get lost in an interface that looks a little like an Excel spreadsheet and has lots of symbols that aren't clearly explained.
Also, if you choose to list the flights in price order you lose any reference to the Agony rating, which is where it would actually be helpful.
The ideas are great here, but they could be much better executed.
When it came to searching for the international flights, the Hipmunk format seemed to come into its own.
It automatically selected a flight that I had been finding with some difficulty on other sites and it was cheaper than all with the exception of Momondo, which had made the same flight fairly tricky to find.
Their Agony algorithm was working on this search and just needs to be applied in a better way for this site to really take the lead when choosing a comparison site.
When looking at the results for the flights to Rio there were often up to three flight changes to consider and the layout of Hipmunk's results made navigating these details a painful experience with not much of savings for the trouble.
Click here to get the best airline ticket prices in 2020
Hipmunk did beat the pack to the cheapest flight on two occasions, which makes it the second-best performer.
Conclusion
I can see why Hipmunk retains its loyal customer base and it certainly has a place in my top 7 flight search services.
I think they should be checking out Skyscanner and Momondo to get some ideas on how to better present the features they have if they want to maintain their position in the field.
8. Priceline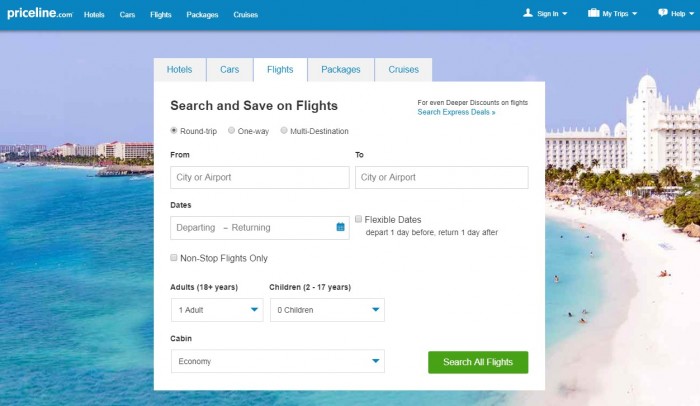 My Rating: 6.3/10
General Observations
The front page of Priceline has the search engine prominently featured, but it is clear that flights are not the priority for this service provider, as you have to choose whether to search for hotels, cars, packages, cruises or flights first.
You can waste some time entering data into the wrong page for this reason.
There are also a number of other menu options on this first page that can distract from the important business of finding your ideal flight.
Once you have selected the flight option, it has clear and easy to use search criteria boxes with options to choose all airports that serve the city of your departure or arrival and you can factor in a day or two of flexibility and choose to search for direct flights only.
Result-Specific Observations
Having reviewed the results, it transpired that a number of popup windows advertising cheap flights to LA had been triggered, which were then running in the background as I reviewed the results offered by Priceline itself.
This is never a desirable side effect of any web search function.
The actual results page itself is fairly typical but the main problem is that it failed to find the cheapest flight that was selected by all the other aggregators that I used for this analysis.
As this is the main priority of anyone searching for flights, all the other bells and whistles don't carry much additional merit.
When searching for the international flights, Priceline displayed the flight with the 1.5-hour stopover first and the cheaper flights with excessive stopovers were nowhere to be seen.
While this met with my personal criteria for this search, it does not provide all the options that may be considered by the budget traveler.
I know there are times that I would rather save a few hundred dollars and endure 15 hours in an airport than get to my destination sooner.
It was also significantly more expensive for the same flight.
Most significantly, Priceline got the record for returning the most expensive flight on four occasions, including two flights that were a massive $478 more expensive than the next best option.
Conclusion
It seems that Priceline may have diversified themselves out of the flight search arena and I certainly won't be looking to use them again in the future.
9. Expedia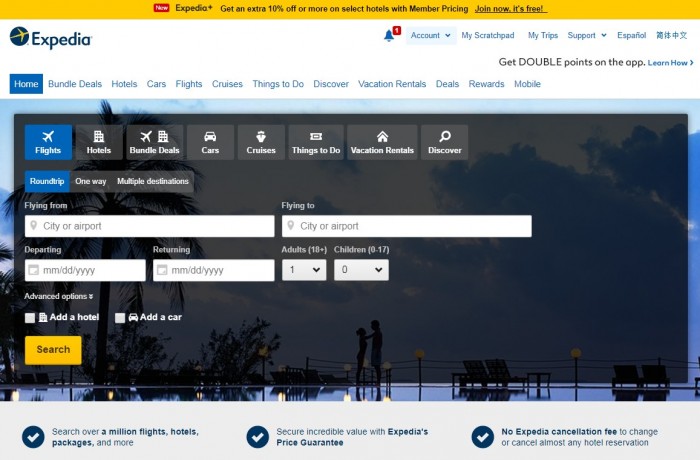 My Rating: 6.1/10
General Observations
It will not have been possible to avoid the aggressive marketing campaign of this experienced travel metasearch organization in recent years, so it is a little surprising that the user interface feels so dated.
The search engine is set for the user to search for bundles of holiday packages and it is possible to waste some time entering unnecessary fields before realizing that one needs to select the flights-only option, but it is fairly straightforward from that point.
Click here to get the best airline ticket prices in 2020

It is also possible to select some advanced options at this stage too, which is usually not possible until after the initial search with most organizations.
There is a rather annoying feature of a bell with a red notification icon in the top menu bar which is just telling you that you can set up an alert for price changes on your chosen flight.
While this is not as distracting as the popup menu that some search engines have opted for, it is still unnecessary marketing that loses Expedia some respect from most discerning travelers.
Result-Specific Observations
At first glance the results looked very promising, but after a little more investigation the long list of flights that appeared to be over $100 less than the cheapest US domestic flight I'd found elsewhere was actually for the Santa Ana airport, which is a significant distance from the LAX option that I searched for.
The cheapest flight to LAX was actually significantly pricier than average at $378.
Expedia is one of the four providers that gave the most expensive result.
Conclusion
Expedia has many positive qualities, but finding the best value flights is obviously not their strongest selling point and it was a disappointing result for such a prominent organization. I won't be rushing back to them any time soon.
10. Cheap Flights Finder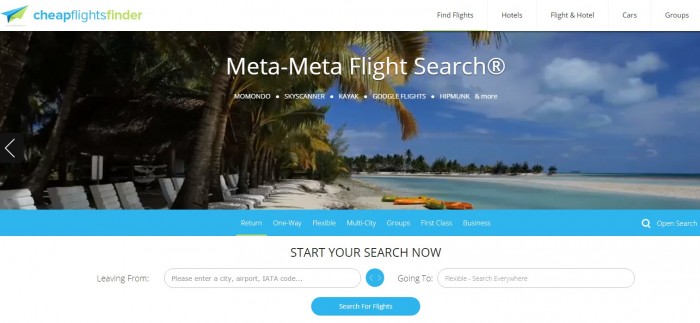 My Rating: 5.9/10
General Observations
This site starts by loudly proclaiming itself to be the 'World's First Meta-Meta Flight Search' so I was understandably excited to find out what this meant for the average person wanting a cheap flight that takes a reasonable amount of time.
It didn't start well; I entered the criteria for the internal flight and was trying to search while it insisted I enter a return date.
Once I had discovered the one-way option, I then had to enter the criteria again.
As this was an oversight on my part, I gave it another chance to impress me and it worked.
Result-Specific Observations
This service provider searches all the best engines and usually finds the same flight as you would by doing it manually, but then adds a little on to the price for good measure.
It did sometimes miss the cheapest option available, but not often.
Conclusion
This is not a bad site to use as a reference, but I would suggest not using it to book the flight, but more to direct you to the place where you do want to book it.
11. FareCompare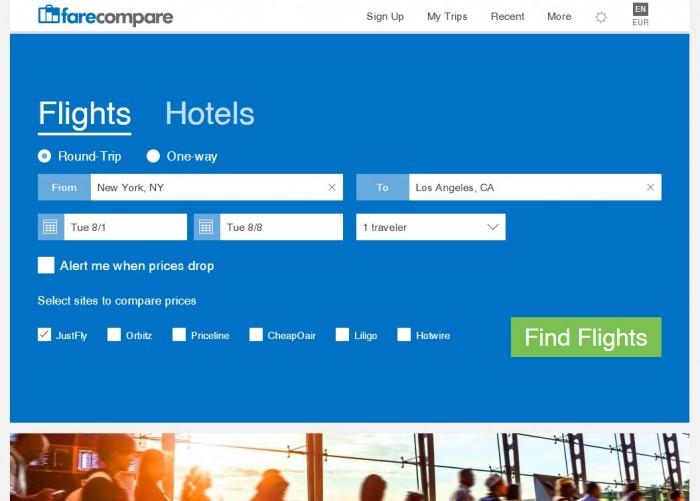 My Rating: 5.5/10
General Observations
FareCompare starts well with a very simple, user-friendly and visually pleasing search interface on its homepage.
At the bottom of this page is the less impressive aspect of this particular service provider.
There is an option to select further aggregate organizations that you may want to search and each one that you choose opens up another popup window; even worse, these popups are hidden until the search is finished.
At this point, it is necessary to go into each popup and see the best option provided.
It is a long-winded, complex and untidy method that I wouldn't recommend using.
Result-Specific Observations
The results from FareCompare were average with no pleasant or unpleasant surprises.
With the US domestic flight search there were two flights listed at the top of the results that were significantly cheaper than average, but it wasn't immediately obvious that one of these included a 4-hour stopover, which seems heinous enough until you realize that the other one has a 17-hour stopover for the minor saving of $4.
The weary flight hunter may have missed this detail and found themselves booked onto an overpriced flight with little benefit and no option to cancel without a fee being charged.
Conclusion
This service provider doesn't seem to offer any advantages but has plenty of drawbacks, so I won't be using them for my searches in future.
12. Hotwire.com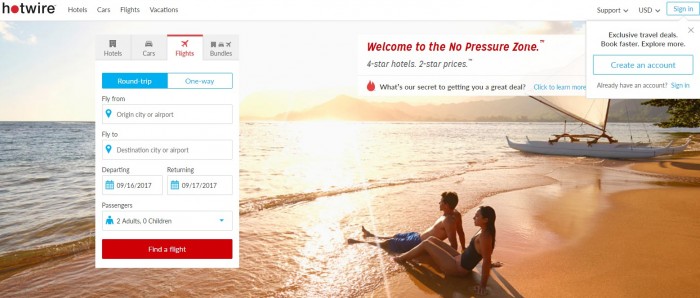 My Rating: 5.2/10
General Observations
Hotwire has a clean and contemporary homepage without too many distractions on the page.
They offer a number of services and it is necessary to select the flight option before entering the search criteria.
If you enter the criteria in the wrong section it is necessary to enter it all in again, as the selection isn't saved.
There aren't too many options to choose from and this keeps the process simple and straightforward.
Click here to get the best airline ticket prices in 2020

I was searching for flights for one person and the search box kept reverting back to the automatic two-person option with each new search.
It is my experience that when searching for flights I usually conduct more than one search in order to consider all of my options and I think a good search engine will remember the specifics that I enter each time.
Result-Specific Observations
It was disappointing to see the same template for the results that I have seen on several other sites and once again the prices were also the same too.
All the prices were above average without exception.
Conclusion
A good homepage with an easy-to-use search engine but there is no evidence to suggest you will ever find a stand-out deal here.
Worst Performing Flight Booking Sites in 2020
13. Fly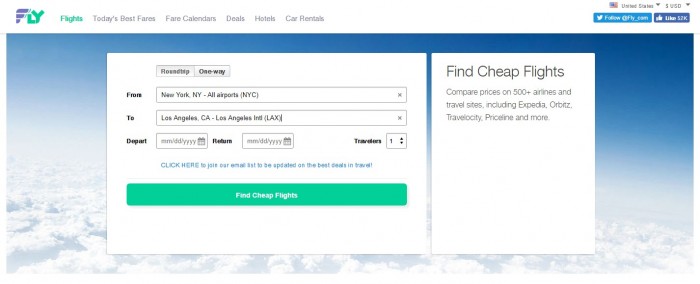 My Rating: 4.8/10
General Observations
This is a fairly new website that appears very slick and user-friendly at first glance, but once again the issue with popups occurs.
While they search a number of travel metasearch sites, it doesn't seem to improve the quality of options available.
In addition to opening popups for each individual site that they search I also discovered windows that were offering car hire, hotels, and other holiday services once I had stopped perusing the actual flights that had been put on offer.
Result-Specific Observations
The results were not well laid out but had nothing additional to offer anyone who already knows about Momondo and Skyscanner.
The cheapest flight was the same average flight that I was finding on the majority of sites using the same criteria.
The international flight results showed the total journey time, but not how much of that was stopover, which is an essential factor when making a decision regarding your flight.
Conclusion
This is an average site with too many competitors who are doing it better to make this a service that I would consider using again.
14. CheapOAir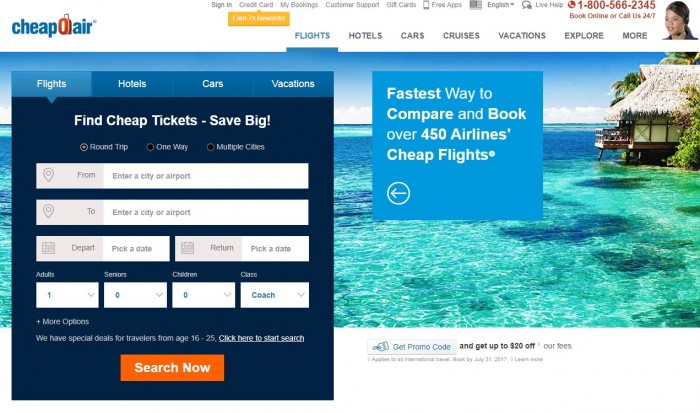 My Rating: 4.2/10
General Observations
The front page of this site is pretty clear and easy to use.
There is a fair amount of unnecessary menu items, images, graphics, promo codes, helplines and similar in the background, but these are easy to ignore if you want to get straight to the business of finding the best flight.
In the search engine, it offers an 'all airports' option for the selected city, which is always useful and it is simple to select the main criteria, date, one-way or return, etc.
The results page is a little unfriendly and confusing at first glance.
The cheapest flights that are listed at the top are often for alternative dates and airports, and this is not made obvious unless you know to look for it.
Once you've scrolled down to find a flight that actually matches the exact criteria you want then it gets a bit easier.
I am all for the 'I'm flexible' option that allows for adjusting plans to make big savings, but often the day you search for is the one that you need to fly on and that should be reflected in the service.
This seems like they are trying to give the impression of providing cheaper flights than they can do, which is a little underhand and could result in bookings being made that aren't what the customer wants.
To add to this concern is the little banner above the flight details stating '24-hour cancellation,' which may make people a little less cautious, but it is only after clicking on the 'fare rules' button, which doesn't appear until you've started making the booking, that you are informed that there is a charge incurred for canceling at any time.
Click here to get the best airline ticket prices in 2020
It is also not possible to see if there are charges for baggage until the booking process has started, which just makes this a little more complex and convoluted than is necessary.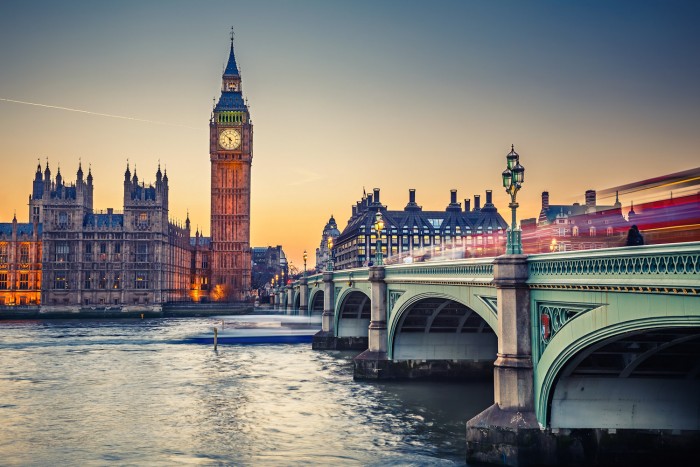 Result-Specific Observations
If the flights were significantly cheaper I could let them off for the imperfect search options, but they came in on average when compared to other similar sites.
The international flight search highlighted the drawbacks with the results page, as all of the flights had at least one stopover so it came down to how long the overall journey would be, including the all-important layover time, but this was not easy to see with the results layout.
It was possible to opt for the shortest flight, but this only shows the absolute shortest, which was far more expensive than the longer options and there was no easy way to find the compromise flights without just scrolling through them individually.
There is an option to choose the maximum layover time, but having chosen a 4-hour maximum I then needed to check that an extra hour wouldn't make a lot of difference.
This was an overly complicated search in comparison to other service providers, but not the worst.
The search for flights to Rio really highlighted this service's shortcomings, as wading through the information to work out which flight was the best option really wasn't easy with the way the results are laid out.
With this flight, there were up to three stopovers and layovers that extended journey times from an hour to over 30 hours and it was made almost impossible to decipher which was which with this layout.
The final nail in the coffin for this site was that it came up with the most expensive option on three searches out of 12, which makes it the joint second worst performer on price alone.
Conclusion
There really is no discernible reason that I can find to return to this service to find my flights.
There were no features that stood out, and the prices were mostly average and sometimes the worst on offer.
15. Travelocity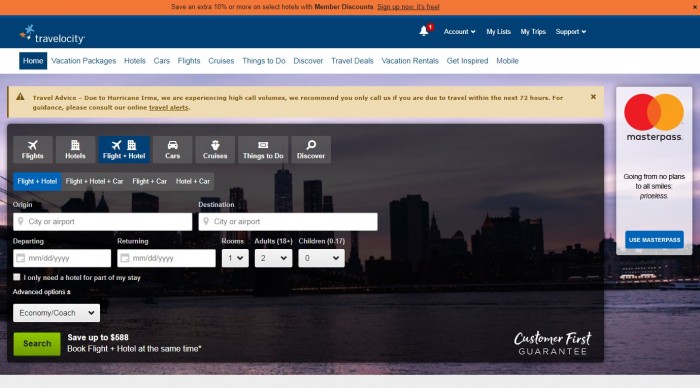 My Rating: 4.1/10
General Observations
The homepage presents lots of options to search for, including hotels, things to do, and, of course, flights.
The initial impression is that this is going to be a good resource to use.
Unfortunately, it turned out to be another clone website with nothing original or inspiring to offer by way of search options or results.
Click here to get the best airline ticket prices in 2020
Result-Specific Observations
The results page was a template that I had seen on a few sites and it offered no unusual or unexpected results.
Conclusion
A very average site that presents nothing that would set it apart from the other sites available.
16. Orbitz.com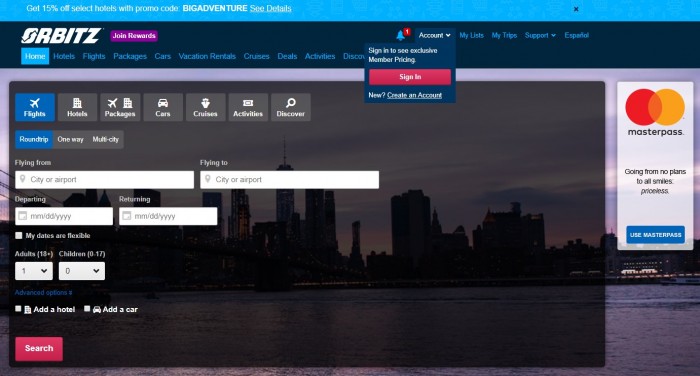 My Rating: 4/10
General Observations
Both the search engine and the results page used the same template that I had observed on several other sites and they all came back with the same results.
There is an option to join a 'rewards club' and, having gone through the process to see if it had anything to offer, I was disappointed but not surprised to find that it wasn't worth the effort.
Result-Specific Observations
The results from using Orbitz were identical to several other sites using the same cloned template with a slightly different color scheme.
Conclusion
Unless having a black and blue user interface is particularly important to you, I can see no reason to visit this site over the infinitely superior options available.
17. WebJet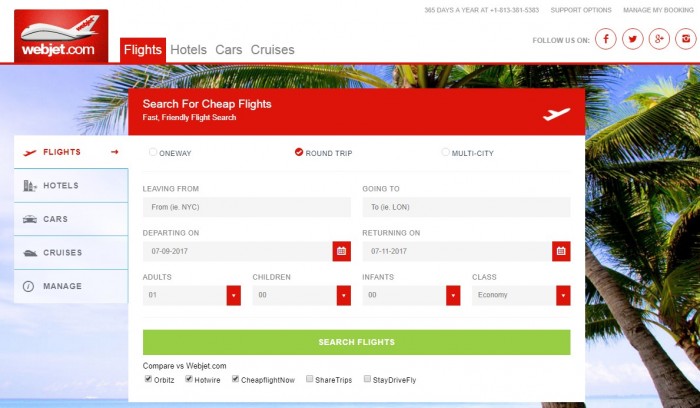 My Rating: 3.7/10
General Observations
This is another site that could do with an upgrade just to make it more user-friendly.
Jarring colors, blocky graphics and unclear search field boxes just made this feel like searching for a flight from the past, and there were no clear benefits from this lack of sophisticated interface.
Some options were just difficult to find and others weren't there at all.
It was also necessary to select all the aggregators that you want to search and each one results in a new popup window, which just shouldn't be necessary for this decade.
When it has collated all the search results it throws up a popup window with the best priced flight urging you to book now, which I don't think anyone would do without first looking at the list of options to see if a pricier flight might not be preferable for any reason, which makes this an unhelpful feature.
Result-Specific Observations
I wouldn't mind a lack of sophistication and would happily search using a phone and a pen and paper if it meant getting the best results, but that's not the case here.
The cheapest result on the last-minute US domestic flight was a full $63 more than the next best and that was by flying into Santa Ana rather than LAX.
It should be noted that WebJet did perform surprisingly well in the first international flight search, although there was still a problem in reading the confusing results page and overall they provided the most expensive option on 3 occasions out of the 12, making it joint third worst performer out of the group.
Conclusion
It looks like WebJet is relying on existing loyal customers, as it won't be attracting any new ones with the services that it is offering at the moment.
In short, there is a little too much that is wrong with this site, and there are definitely superior options available.
18. Cheapair.com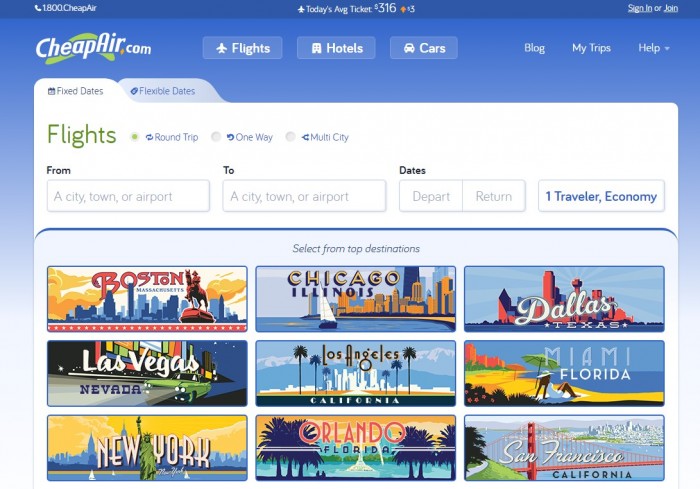 My Rating: 3.2/10
General Observations
The Cheapair home page is really colorful and inviting with very clear buttons and menu options.
It doesn't feel at all busy despite having lots of advertisements under the search criteria boxes.
The drop-down box for selecting the passengers is a little cumbersome and makes it necessary to scroll down to hit the search button.
This is a minor problem but a shame on such a well-designed front page.
The site behaves rather unusually after clicking the search button, as a window pops up offering 'Price Drop Payback.'
This claims that if the price of the ticket you purchase goes down they will refund up to $100, and it is necessary to click on another button to see the flight options.
This opens another window with the results list, and the existing Cheapair page redirects to what appears to be another website offering 'super cheap flights' with a search criteria box to fill in.
This is a very frustrating series of processes and I can't see how it is helpful.
If there is a $100 refund offer on flights then there are many ways to impart this information.
Result-Specific Observations
Once the user has steered their way through the convoluted business of getting to the actual results page it is refreshing to see that it is not based on any recognizable template, and the results are clear and easy to read with a summary of the most interesting results in a sidebar to the left.
It took a few searches before I noticed the filter button that allowed me to refine the search with regard to preferred airports or number of stopovers though.
As a result, I spent some time trawling through results to find the best deal using the criteria that I had chosen to search on.
Click here to get the best airline ticket prices in 2020
I know that the option was there but I think it could have been made a little more obvious, as it was not very user-friendly to have it positioned where it was.
With so many positive and negative factors with this site it would have been difficult to know how to rate it if it weren't for the consistently higher than average results.
Conclusion
There were many positive things to say about this site but the convoluted search process and the fact that Cheapair consistently failed to be the cheapest way to get in the air left it trailing at the back of the pack.
19. CheapFlights.com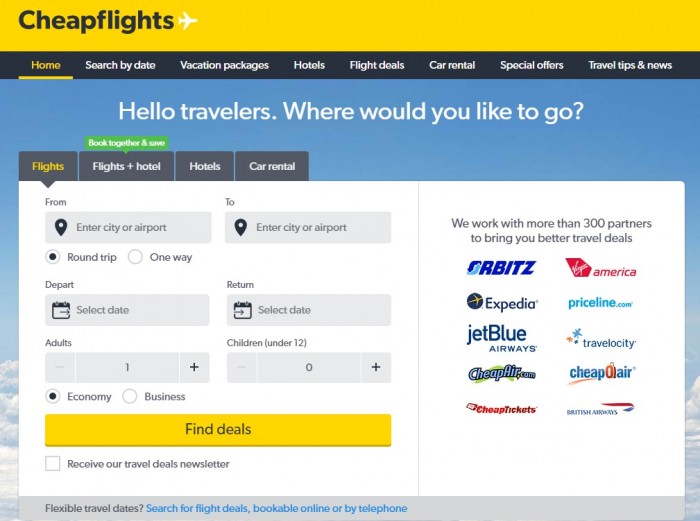 My Rating: 2.7/10
General Observations
At first glance this provider doesn't seem to be too bad.
The graphics are clean and unfussy, making it user-friendly and clear to see where you need to enter the details in the search engine.
There are no annoying popups and the results come back nice and quickly, but that's where it becomes unusable.
Result-Specific Observations
Once the results come back it becomes necessary to repeatedly leave the site to go and view the deals from each company it has searched for you.
There isn't even an indication of which option may be the best to look at before you click on the button.
As a result, I stopped using this search engine after finding the first three searches offered nothing significantly cheaper.
Conclusion
It is possible that this organization is capitalizing on being near the top of the results should anyone search Google for cheap flights, as it is not clear how they outdo their competitors on any front.
20. Flights.com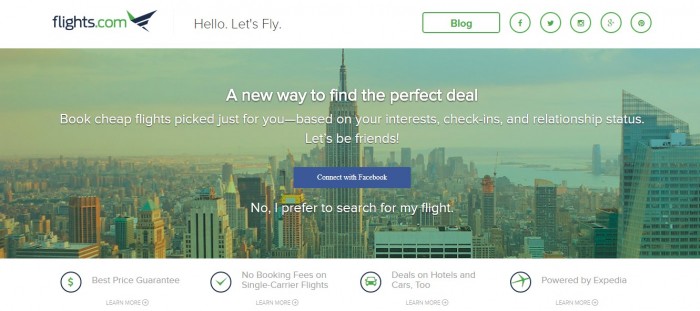 My Rating: 2.2/10
General Observations
The home page of Flights.com gives an option to connect with your Facebook profile and claims to be able to find flights based on your profile details.
I conducted the searches without choosing this option to begin with and initially you just get to choose the departure and arrival details, there is no option to select other criteria, such as dates or numbers of passengers, at this stage.
The next page is where it asks for the specifics but there is a lot of information automatically entered that then needs to be changed.
This makes the functionality a little disjointed and clumsy.
Having entered all of the information, you are then simply redirected to Expedia to find the flight and discover yet another cloned results page with nothing new to offer.
I then tried to see what would happen if I clicked the button to connect with my Facebook profile, which is always a risky option for anyone who isn't a fan of having their every move put into various algorithms; however, I consider it worth the risk if I were to find a great deal on flights.
I needn't have worried, as the button didn't seem to do anything!
I tried this on a friend's laptop and on my phone just in case it was a technical problem at my end, but we couldn't connect.
Result-Specific Observations
As the site is linked to Expedia, it seems that this Facebook link option is what is intended to set it apart from the rest.
As a result of this not working, the site just returned average results that were never the cheapest or the most expensive options available.
To add insult to injury, the results were presented on the all-too-familiar template with exactly the same prices as the other sites using the same one.
Conclusion
Without the Facebook option, this is a distinctly middle-of-the-road website that offers nothing but frustration and uninspiring results.
21. FlightComparison.com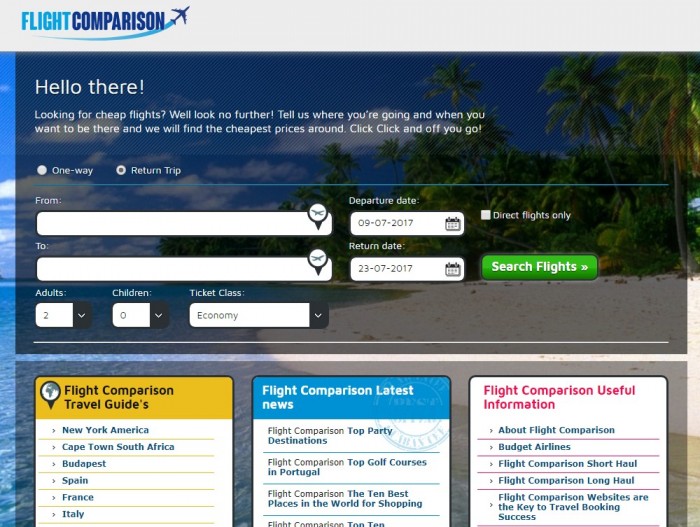 My Rating: 1.5/10
General Observations
This is one of the best initial user interfaces that I've seen.
It is friendly, welcoming, clear and concise.
It even made me vaguely interested in the options to see blogs and news that are advertised below the search engine data entry boxes, as they were so well laid out and did not distract from the primary purpose of visiting the site.
Click here to get the best airline ticket prices in 2020
Result-Specific Observations
The site crashed during searches so often that I only got two results and they were both average and provided no motivation to continue trying to get a result.
Conclusion
Maybe you'll have more luck than I did!
Bottom Line
So that's my comprehensive review of some of the most popular service providers and I hope it helps to guide you to the best place to start planning your next big adventure.
Happy travels!
P.S. Did you like my work?
Cover Photo by: SmarterTravel.com
Click here to get the best airline ticket prices in 2020

Pro Tips: Best Time To Book Airline Tickets in 2020
Click here to get the best airline ticket prices in 2020
1. Plan in advance
First and most important rule. Buy your ticket as early as possible. This guarantees that you get the best price. I and my wife have always hated to plan our trips in advance. We have typically bought tickets 7-14 days before departure. Therefore, we have paid A LOT. If you want to save 2-3x on your trip, be reasonable and purchase your tickets 3-6 months in advance.
2. Best day of the week to purchase airline tickets
The best day to purchase airline tickets online is definitely Wednesday. This is the most ignored day, by the way. Most people stick to Friday-Sunday. Try searching for your airplane tickets, for both domestic and international trips, on Wednesday. You are guaranteed to save an extra 10-30% on your trip.
If you do not like to plan in advance, try to make sure you purchase your domestic flight at least 4 weeks before the departure (2-3 months for international flights).
3. Is it night or day?
It does not really matter whether it's day time or night time since the World is searching for flights 24/7. However, I have always noted that when I search for a domestic flight in the early morning, I have tended to get an extra 5-10% discount. It didn't' actually work when I have searched for international flights.
4. What is the best month for buying the cheapest flight?
No matter if you need domestic or international flight tickets, the best month is always the same. It's mid-September. Don't miss that happy month during the year.
Also, February is great for long-distance trips to exotic locations, such as Bora Bora, Dominican Republic, Cuba, Seychelles, Maldives, Cuba, Mexico, etc.
5. Worst months to book flights
May-July and October-December are the busiest months of the year so don't even try to get the best deal during them. Frequently, you can get dirt cheap flight tickets on February-March.
6. Which browser is the best to catch extra discounts?
Make sure you book your flights either from Google Chrome used in the incognito browsing mode (CTRL+SHIFT+N) or from your mobile phone (iPhone or Android). Your browser is not a big difference to the final price.
7. Best Android or iPhone apps to purchase tickets in 2020 (and worst)
None. Make sure you don't download any apps or sign up anywhere. Do it privately. Otherwise, you will pay 30-50% more.