Sarah Jeffery – Queen of Mean (CLOUD x CITY Remix/From "Disney Hall of Villains")
On Oct 12th, Sarah Jeffery released the much-awaited remix of her breakout hit "Queen of Mean". The Queen of Mean is the soundtrack from Disney's Descendants 3, a very popular American musical fantasy TV film for teenagers.
The hit that was originally uploaded to Youtube by Disney Music on August 3rd has been viewed 150+ million times.

Original soundtrack: Sarah Jeffery – Queen of Mean (From "Descendants 3")
Who is Sarah Jeffery?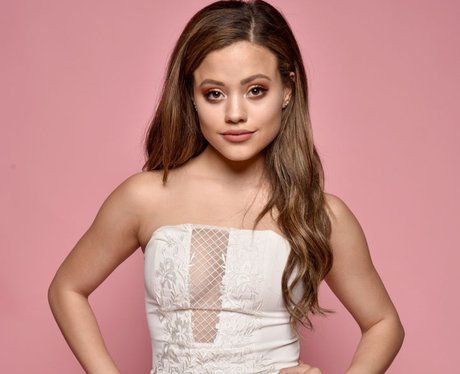 Sarah is a 23-year-old beauty from Vancouver, Canada (Born on April 3, 1996).  She began her career as an actress in 2013. She starred in various TV movies and films for teenagers (filmography on wiki). Sarah has shown herself as a talented singer too.
The Story
In the Queen of Mean video, Sarah is telling us a sad story of her broken relationships. She was a good girl. She didn't want to be mean. She wanted to be the Queen from her love. She didn't want anything in between. So suddenly she became the Queen of Mean.
A good present for all Sarah's fans in front of Halloween.
Sarah Jeffery's Instagram @sarahmjeffery

Shots from the video. You are gonna love it.

Trying to be both an actress and a camera man.

Sarah is so beautiful and lovely

It's so easy for her to change her appearance. Well, it's her job.

Sarah with her friend Bren

Ultimate beauty

She looks like a teen. Well, she is only 23 years old. Don't hurry up to be grown up, Sarah! Enjoy your tender age.

Sarah with her dad.

Little princess in Manhattan, NY